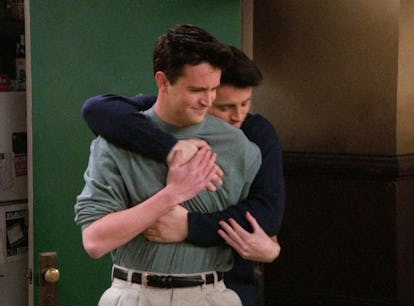 Matthew Perry's Friends Co-Stars Shared Emotional Tributes For Him
The world has lost a good friend. On Oct. 28, the news broke that Matthew Perry had died. The actor was found unresponsive in his hot tub. No cause of death has been confirmed. In the wake of the tragedy, Perry's Friends co-stars paid tribute to their close friend with touching statements.
Perry got his start as an actor when he was just 10 years old and worked consistently throughout his life, but his most famous role was as the neurotic smart aleck Chandler Bing on the generation-defining sitcom Friends. Throughout the show's run from 1994 to 2004, Perry developed a close friendship with his co-stars Jennifer Aniston, Courteney Cox, David Schwimmer, Lisa Kudrow, and Matt LeBlanc.
The six actors remained close in the years after the series ended, memorably reuniting in 2021 for the HBO Max special Friends: The Reunion. That would end up being Perry's final on-screen appearance.
Two days after Perry's death, Aniston, Cox, Schwimmer, Kudrow, and LeBlanc released a joint statement expressing their grief via People. "We are all so utterly devastated by the loss of Matthew. We were more than just cast mates. We are a family," the statement reads.
"There is so much to say, but right now we're going to take a moment to grieve and process this unfathomable loss," they continue. "In time we will say more, as and when we are able. For now, our thoughts and our love are with Matty's family, his friends, and everyone who loved him around the world."
LeBlanc posted his own heartfelt tribute to Perry a couple weeks after his death.
"It is with a heavy heart I say goodbye," LeBlanc wrote on Instagram on Nov. 14, sharing photos of himself and Perry on the set of Friends. "The times we had together are honestly among the favorite times of my life. It was an honor to share the stage with you and to call you my friend. I will always smile when I think of you and I'll never forget you. Never. Spread your wings and fly brother you're finally free. Much love. And I guess you're keeping the 20 bucks you owe me."
Cox also reminisced on her favorite moments with Perry in a Nov. 14 Instagram post. She shared an outtake from the iconic Friends scene where Monica and Chandler hooked up for the first time, sharing that Perry had whispered a joke for her to ad-lib that was cut from the scene when it aired.
"Before we started rolling, he whispered a funny line for me to say. He often did things like that. He was funny and he was kind," Cox wrote.
Aniston reflected on Perry's commitment to making his Friends family laugh, sharing an old text she found of Perry telling her that making her laugh made his day.
"We loved him deeply. He was such a part of our DNA," Aniston wrote in a Nov. 15 Instagram post. "We were always the 6 of us. This was a chosen family that forever changed the course of who we were and what our path was going to be."
"In the last couple weeks, I've been pouring over our texts to one another," Aniston continued. "Laughing and crying then laughing again. I'll keep them forever and ever ... Matty, I love you so much and I know you are now completely at peace and out of any pain. I talk to you every day… sometimes I can almost hear you saying "could you BE any crazier?" Rest little brother. You always made my day."
Schwimmer wrote about how Perry brought the show's cast together in his Nov. 15 Instagram tribute. "You had heart. Which you were generous with, and shared with us, so we could create a family out of six strangers," he wrote.
He shared a throwback pic from the set in which he and Perry posed in suave outfits. "This photo is from one of my favorite moments with you," Schwimmer wrote. "Now it makes me smile and grieve at the same time. I imagine you up there, somewhere, in the same white suit, hands in your pockets, looking around—'Could there BE any more clouds?'"
And finally, Kudrow also posted her own touching tribute to Perry on Nov. 15, thanking him for all the great memories they made together.
"Thank you for making me laugh so hard at something you said, that my muscles ached, and tears poured down my face EVERY DAY," Kudrow wrote. "Thank you for your open heart in a six way relationship that required compromise. And a lot of 'talking.' Thank you for showing up at work when you weren't well and then, being completely brilliant. Thank you for the best 10 years a person gets to have. Thank you for trusting me. Thank you for all I learned about GRACE and LOVE through knowing you. Thank you for the time I got to have with you, Matthew."
Julia Roberts may have on guest-starred on Friends for one episode, playing Chandler's childhood friend Susie, but she had a very special bond with Perry. The two briefly dated around the time of Roberts' episode. She remembered her ex on Dec. 4 while speaking to Entertainment Tonight.
"The sudden passing of anybody so young is heartbreaking," Roberts said. "I think that, you know, it just helps all of us just appreciate what we have and to keep going in a positive way as best we can."
The creators and executive producers of Friends also paid tribute to Perry the day after his death. Marta Kauffman, David Crane, and Kevin Bright released a joint statement via Deadline to share their heartbreak.
"We are shocked and deeply, deeply saddened by our beloved friend Matthew's passing. It still seems impossible. All we can say is that we feel blessed to have had him as part of our lives," the Oct. 29 message read. "He was a brilliant talent. It's a cliche to say that an actor makes a role their own, but in Matthew's case, there are no truer words. From the day we first heard him embody the role of Chandler Bing, there was no one else for us. We will always cherish the joy, the light, the blinding intelligence he brought to every moment – not just to his work, but in life as well. He was always the funniest person in the room. More than that, he was the sweetest, with a giving and selfless heart. We send all of our love to his family and friends. This truly is The One Where Our Hearts Are Broken."
This article was originally published on