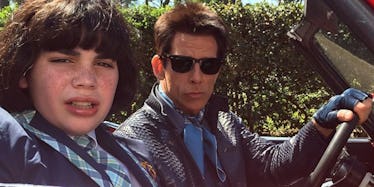 Derek Zoolander's Son Will Make His Debut In 'Zoolander 2' (Photo)
Instagram
We've all been eagerly awaiting the release of "Zoolander 2."
We got a taste of what the film might offer when Hansel and Zoolander strutted their stuff on the catwalk during Paris Fashion Week.
Now, we have a little more info about the film.
Specifically, the movie will feature Derek Zoolander's son.
On Monday, Ben Stiller Instagrammed a photo of himself and the actor playing his child while driving in a car.
The actor's name is Cyrus Arnold. He has had roles in "Sam & Cat" and the "Richie Rich" television show.
The movie won't be out until February 12, 2016, but at least we know the plot will, at least in part, revolve around Derek Zoolander's progeny.
Citations: Zoolander Two Will Introduce Derek Zoolanders Son (Buzzfeed)