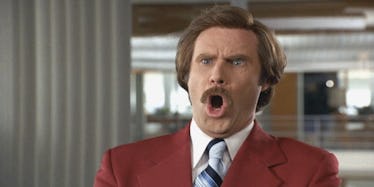 Will Ferrell Reveals The Original Idea For 'Anchorman' Was Totally Different
Apatow Productions
It's no surprise anytime Will Ferrell releases a new movie it's almost guaranteed to become an instant classic.
I'm thinking of movies like Elf, Step Brothers, and Talladega Nights: The Ballad of Ricky Bobby, for example.
I mean ridiculous, over-the-top characters, childish humor, and hilarious quotes for any and every situation? It's a yes from me, dawg.
Here's proof I'm not the only one who thinks this:
Recently, though, Will Ferrell revealed one of his most famous instant classics (and his favorite movie he's made) was almost an entirely different movie.
That's right, in an interview with The Ringer, Ferrell said that the original concept for his and Adam McKay's movie Anchorman involved plane crashes and orangutans. Uhm... what?
He said:
The first version of Anchorman is basically the movie Alive, where the year is 1976, and we are flying to Philadelphia, and all the newsmen from around the country are flying in to have some big convention. Ron convinces the pilot that he knows how to fly the charter jet, and he immediately crash-lands it in the mountains. And it's just the story of them surviving and trying to get off the mountainside.
Already this sounds like a polar opposite movie from the Anchorman we know and cherish today. As if that wasn't different enough, our fave SNL alum explained what the second half of the movie looked like:
They clipped a cargo plane, and the cargo plane crashed as well, close to them, and it was carrying only boxes of orangutans and Chinese throwing stars. So throughout the movie we're being stalked by orangutans who are killing, one by one, the team off with throwing stars.
In a shocking turn of events, this concept was a little "too kooky" for Ferrell and McKay's partner on the project, Paul Thomas Anderson (yea, you read that correctly).
So, after what I imagine were a whole bunch of rewrites and revisions, the script for Anchorman was born unto us.
Now I guess all we can do is hope there'll be an Anchorman 3 where we can actually see this original script on the big screen.