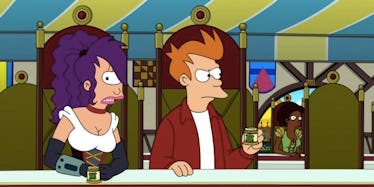 It's Your Last Chance To See These Movies On Netflix, So Start Watching
Fox/Netflix
Every month it seems like Netflix is born anew.
Our favorite streaming service makes some renovations and, suddenly, a whole new selection of television shows, documentaries, and movies are available at the click of a button. This is usually a good thing, especially when we get new Netflix original series.
Alas, though, we must say goodbye to some fan favorites. Yes, sadly, Netflix has to give some of its titles the boot in order to make room for the new, which means we have less than four days to watch as many of these classics as we possibly can.
Here are the titles leaving (for now) in July.
Leaving July 1
Blazing Saddles
American Pie Presents: Band Camp
Flicka 2
9/11: Stories in Fragments
Secrets: The Sphinx
Batman
Working Girl
Gentlemen Prefer Blondes
An Unmarried Woman
Hello, Dolly!
MacGyver (Seasons 1 - 7)
Ghost Whisperer (Seasons 1 - 5)
Futurama (Seasons 1 - 6)
Day of the Kamikaze
Mystery Files: Hitler
Mystery Files: Leonardo da Vinci
Nazi Temple of Doom
The Hunt for Bin Laden
The Incredible Bionic Man
History in HD: The Last Bomb
Secrets: A Viking Map?
Secrets: Richard III Revealed
Shuttle Discovery's Last Mission
Titanic's Final Mystery
Samurai Headhunters
America's Secret D-Day Disaster
Black Wings
Blondie's New York
Bombs, Bullets and Fraud
Death Beach
Hip Hop: The Furious Force of Rhymes
American Pie Presents: Beta House
Hugo
American Pie Presents: The Naked Mile
Angus, Thongs and Perfect Snogging
While You Were Sleeping
Kate & Leopold
El Dorado
Leaving July 3
The Last Samurai
Two Weeks Notice
Leaving July 6
Los Heroes del Norte (Seasons 1-2)
Leaving July 11
Leaving July 12
Sleeping Beauty
Adventures of Pepper and Paula
In the Basement
Leaving July 15
Lessons for a Kiss
All That Glitters
Right now, it doesn't seem like anything *too* devastating will be leaving this July, but it's still sad knowing we won't be able to binge Futurama anytime we want now. Oh well, I guess that's the price we have to pay in order to get Titanic up on Netflix ¯\_(ツ)_/¯.