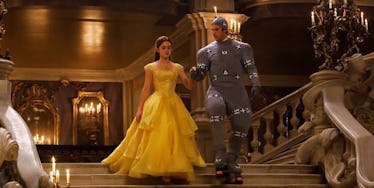 This Video Of Emma Watson As Belle Acting With A Non-CGI Beast Is Mind-Boggling
YouTube
Just when you thought the Beauty and the Beast hype had died down, a new behind-the-scenes video was released to blow your Disney-loving mind.
I'm not sure if there's anyone left who hasn't seen the remake of the classic 1991 film. The live-action movie, which stars Emma Watson as Belle and Dan Stevens as the Beast, premiered in March and has already raked in over $1 billion at the box office.
So now that we've had a couple months to see the magic of our childhood brought to life with human actors, it's time to pull back the curtain just a bit.
In this behind-the-scenes video, we see the Beast as we've never seen him before -- aka, without CGI.
Dan Stevens had to wear a special motion-capture suit and stilts while filming his scenes, and seeing him play the role minus the computer-generated Beast is seriously mind-boggling.
In the clip, Stevens talked about what it was like to wear the CGI suit, explaining,
Puppeteering the suit to the motion capture was an ordeal for my calf muscles alone, let alone the whole body, just to kind of manipulate it.
After filming the scenes the first time, Stevens would have to go back into a "rig," as the director called it, and re-create them for the facial capture.
Stevens said,
There was a separate facial capture, which is a whole other challenge that you have to kind of think yourself back into the scenes you shot maybe one or two weeks ago, and without moving your body, just moving your face, do the scenes -- whether they have lines in them or not.
The director of the film, Bill Condon, raved about Stevens' acting skills and ability to pull this off. He said,
I really stood in awe of Dan. Not only did he conquer the technology, he had fun with it. He decided this was a challenge.
He continued,
I always said, we could get everything else in this movie right, but if we didn't get a beast that people believed in, then it wouldn't work.
If possible, watching Watson next to a suited-up Stevens makes this movie even more incredible. The internet is definitely in awe.
Yep, magical!
Citations: You'll Never Look at Beauty and the Beast the Same After Seeing Dan Stevens Before CGI (E! News)