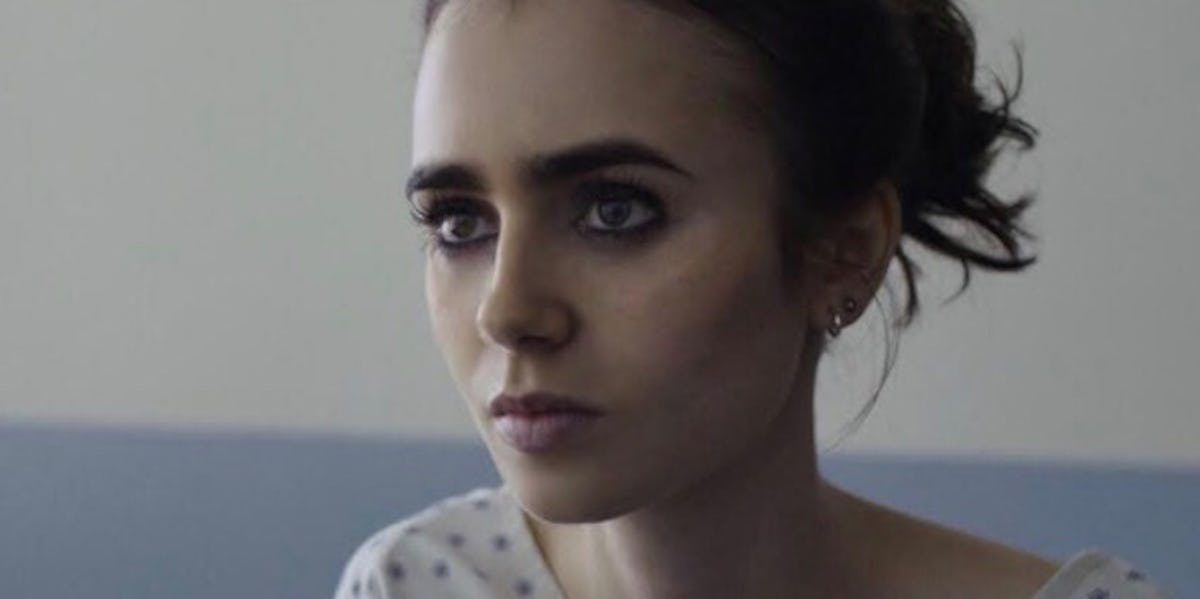 Here's What 'To The Bone' Got Right, According To An Eating Disorder Expert — EXCLUSIVE
Netflix
*Trigger warning: The content below deals with the Netflix original movie To The Bone, which chronicles one character's journey through rehab as she battles an eating disorder.*
In a year that's been clouded with controversy over the right and wrong ways to depict issues of mental health in media, it would be easy for writers, directors, and producers to steer away from creating art that deals with triggering subject matters.
Netflix's new film, To The Bone, sees the importance of generating awareness for mental disorders, though, as it poignantly seeks to initiate a conversation about the difficulties faced by those battling eating disorders.
In To The Bone, Lily Collins plays a 20-year-old named Ellen (or Eli, as she prefers to be called) who struggles with anorexia-nervosa and depression. After several failed attempts at recovery, Eli's step-mother (played by Carrie Preston) manages to get her admitted into a less traditionally structured inpatient program that challenges her to face her disorder head on and take control of her life before she dies.
Of course, the film does its best to approach the nuances of such a complex disorder with tact and realism; so, after viewing the film, Elite Daily spoke with an expert in the treatment of eating disorders, The Renfrew Center's Lori Ciotti, about what To The Bone got right, and what it could have done better.
When asked about how accurately the Netflix original movie portrays the reality of someone with an eating disorder, Ciotti tells me,
I thought that [the movie was] definitely accurate and realistic in several ways. First, I think they portrayed a spectrum of behaviors that patients do often use including restriction and overexercise and purging, and they mentioned laxatives and binging. I was pleased to see that they kind of hit that mark.
Clearly, she is referencing the film's many characters, all of whom face their own unique challenges. There are those who obsessively exercise, those who binge eat, those who restrict their eating altogether, and those who purge their food. It seems like the film functions nicely, as a result, to disrupt the notion that all eating disorders look the same on the outside.
While on the topic of representation, Ciotti also mentions another area where the film succeeds: It portrays a range of characters, all with different body types, genders, races, and sexual orientations, many of whom would not typically associate with disorders like anorexia or bulimia in media. She says,
[To The Bone] really was able to kind of touch on [the fact] not every person who has an eating disorder looks exactly the same.
She acknowledges To The Bone's concerted effort to highlight the non-discriminate nature of eating disorders. Certainly with a film that broaches such sensitive topics as this, broad representation is a key factor in sending the message to audiences that there is no archetype for mental disorders, they do not affect only one type of person, nor do they look exactly the same for those impacted.
Aside from being pleased with the film's wide spectrum of representation, Ciotti is impressed with the way To The Bone doesn't shy away from depicting the most dangerous aspects of the disorder. She looks to scenes in the film that force Eli to come face-to-face with the reality that her disease will kill her and says,
[T]hey portrayed the dangers of the disease, and that it can be deadly, which I think is one of the most important things that we try to get across to patients and families about eating disorders – how high the mortality rate actually is.
Though Ciotti points to several of the film's accomplishments, a movie with a two-hour running time obviously can't fully depict the idiosyncrasies of such a complicated disorder, nor can it encompass the realities of the millions of people who suffer from eating disorders. When asked what To The Bone could have done better, in her opinion, Ciotti says,
The only thing I was truly disappointed about is that there weren't any resources at the end of the film...people should know how to get help.
Of course, after the recent controversy surrounding the Netflix original series 13 Reasons Why's initial failure to include resources for suicide prevention after each episode, Ciotti's point here is valid and this seems like a no brainer. She continues by mentioning a few other areas where she thinks the film could have benefited from a more studied approach,
There are two points with that that I felt pretty strongly about. The first is that they only portrayed unhelpful and sort of unsupportive families.
Looking at the film, she is right. Eli's family is really the only family we get a close inside look at in To The Bone, so, at times, it is easy to conflate their rampant dysfunction with her illness and, perhaps, even assume her situation is typical. However, Ciotti sets that misconception straight when she says,
[T]he point needs to be made that this disease does hit families that are extremely supportive and extremely caring and helpful and present for their loved ones because I don't want there to be some sort of message out there that the only people that suffer from eating disorders have absent or unsupportive families.
Again, this goes back to the fact that the film has less than two hours to present a sensitive story with an arc that makes sense; nonetheless, Ciotti's point is not lost, and it speaks, again, to the notion that not everyone's situation looks the same.
The final critique that Lori Ciotti has is focused on the way Keanu Reeves' inpatient facility structures its treatment. Namely, Ciotti takes issue with the unorthodox methods of the house and the lack of structure during meals, citing both as unrealistic ways to approach the disorder. She says,
[T]reatment was portrayed as very unstructured and mostly unsupervised. It is not possible ... to ask someone who is as acutely sick as the patients in a residential or inpatient facility are to be able to just decide what they're going to eat.
Instead, Ciotti would have liked to see a more realistic portrayal of treatment, one where eating is not treated as an instinctive habit and where patients are given the guidance and clinical supervision necessary to slowly rehabilitate themselves.
Netflix
Overall, though To The Bone only scratches the surface of a very complex issue, it certainly serves as a way to generate awareness for an often secret, very dangerous disorder. Like many other mental disorders, anorexia, bulimia, and related issues have been considered "taboo" topics in the media; perhaps now, positive, helpful conversations will be ignited as a way to remove the stigma surrounding eating disorders and offer help for those who need it.
It's important for anyone struggling with an eating disorder to know that you are not alone, and there are people who can help.
If you or someone you know are struggling with an eating disorder and need help, here are a few great places to start:
The National Eating Disorders Association Call: 1-800-931-2237 Crisis Text Line: text "NEDA" to 741741
Substance Abuse and Mental Health Services Administration Call: (800) 662-HELP (4357)
National Association of Anorexia Nervosa and Associated Disorders Call: (630) 577-1330 Email: hello@anad.org Crisis Text Line: text "hello" to 741741
National Suicide Prevention Lifeline Call: (800) 273-TALK (8255)