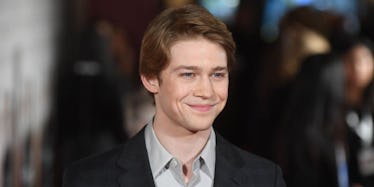 Taylor Swift's New Boyfriend Just Booked A Major Movie With Margot Robbie
Stuart C. Wilson/Getty Images
Things are certainly going great for Joe Alwyn.
Not only is the young actor dating Taylor Swift, but he also just landed a major role in an upcoming period drama that sounds like it's going to be huge.
Joe was just cast in 2018's Mary Queen of Scots as the male lead, alongside super buzzy actors Margot Robbie and Saoirse Ronan, reports The Hollywood Reporter.
Joe will play Dudley in the movie, who is described as Queen Elizabeth's counselor and lover. Queen Elizabeth will be played by Margot Robbie.
But of course, in real life, the only blonde bombshell Joe is snuggling up with is Taylor Swift. The pair sparked romance rumors a couple weeks ago when they were spotted having an intimate meal in Nashville together.
Clearly, this is a big moment for Joe Alwyn both personally and professionally. The 26-year-old British actor first blew up last year as the star of the war drama Billy Lynn's Long Halftime Walk, which was his first-ever feature film.
Since then, the offers have been piling up for Joe. He recently starred in the indie mystery The Sense of an Ending and will play Emma Stone's love interest in the historical biography film The Favourite next year.
But it sounds like Mary Queen of Scots may be the big role that he's looking for. Just like Joe, Margot Robbie and Saoirse Ronan had breakout moments in the past couple years (Robbie in Suicide Squad and Ronan in Brooklyn), so bringing all these big names together for a movie could spell a hit.
The movie, which is adapted from the 2004 biography The True Life of Mary Stuart, will focus on Mary (Ronan), who returns to Scotland after her marriage to the son of France's King ends prematurely. Back home, she tries to regain the favor of her cousin Queen Elizabeth (Robbie).
Mary Queen of Scots will be released in 2018.