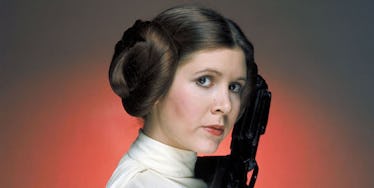 Here's Why 'Star Wars' & New York Fashion Week Are More Similar Than You Think
REX/Shutterstock
Lucasfilm and Disney just let go another director from their franchise last night, the second one in four months – as many on Twitter noted, that now makes more ex-Star Wars directors than those who actually filmed for the rebooted franchise. It's interesting that the issue of directing a movie in this universe comes up now, right ahead of NYFW, since the issue lies with Star Wars films being handled in the same way the fashion industry does their biggest lines. Let's run down some of the more major Star Wars and New York Fashion Week similarities.
Fashion isn't like most other art forms. While there are auteurs out there, who create runway shows that present models wearing something more akin to art than clothing, in general, fashion is considered to be the intersection of where art meets commerce.
It is as much a business as it is an art form -- clothing has to sell to buyers in order for a fashion house to continue to make it. In order to sell, it has to adhere to certain standards. We're not just talking about the practicalities of having a hole for the head to go through and a few more for various limbs. Fashion needs to hold to the current accepted standards of aesthetic beauty in order to be taken seriously -- or even better, take those current accepted standards, and push them forward, or challenge them in a way that makes the wearer interesting.
When it comes to the larger name fashion lines, many of whom were founded in the last century, when they present their visions of what we should all be wearing next spring in the next few weeks, the looks will not be designed by those whose names are above the door. While Tom Ford, say, is still run by Tom Ford, Christian Dior is designed by Maria Grazia Chiuri, formerly of Valentino. That does not mean that Dior's looks will now somehow look like Valentino's used to because that's not how that works.
Each Fashion House has what are known as "house codes," that is, principles and aesthetics that are predetermined so that when a major design house goes from being run by, say, founder Oscar de la Renta to Peter Copping right after de la Renta's death, to that line's now newly appointed creative directors Laura Kim and Fernando Garcia, there is a through line to every design produced.
So it is with big budget movies, like Marvel and Star Wars. Like large fashion houses, each of these franchise universes has "house codes" that those working within it have to adhere to. And like fashion, there can be art found within, but it must hold to current accepted standards of aesthetic in order to be able to sell.
(*One might even argue that it's established "house codes" that keep the Marvel movies as successful as they are, while the DC Extended Universe has found themselves with house codes that are out of step with the agreed upon accepted aesthetic that keeps their movies in constant turmoil.)
The problem seems to be that Star Wars would like to pretend there's more artistic license to be had by directors, when the movies produced say otherwise. Consider, if you will, that even J.J. Abrams, who was hired because of his proven ability with 2009's Star Trek to successfully work within a franchise's house codes, still had The Force Awakens undergo such extensive reshoots, a planned making-of book had to be scrapped.
Rogue One also had major reshooting done to it, with original director Gareth Edwards all but sidelined in favor of another director, who then had to add in the codes Edwards had left out. The result -- a movie where the originally planned ending of "everybody dies" gets a nonsense bit of overlay that "Rebellions are built on Hope" jammed uncomfortably on top. "Hope," you see, is part of the house code.
Not part of the Star Wars house codes? Humor for humor's sake. That's what Lord and Miller forgot when they attempted to make The How Is It Still Yet Untitled Han Solo Joint Now With Bonus Paul Bettany. What code did Colin Trevorrow fail to grasp? We're still far enough out from production of Star Wars Episode IX: The One That Won't Have Leia that we may never know.
Perhaps those indie directors Kennedy picked at the beginning of the process didn't understand how much those house codes need to hold sway over their own artistic visions? But with the example of Marvel right next door, this seems bizarrely shortsighted. Perhaps is an abundance of ego that prevents them from recognizing that their art must still work within the confines granted. When fashion designers like Nicolas Ghesquière take over a storied house like Louis Vuitton, they know what's expected. It's time that Star Wars directors recognized the same.