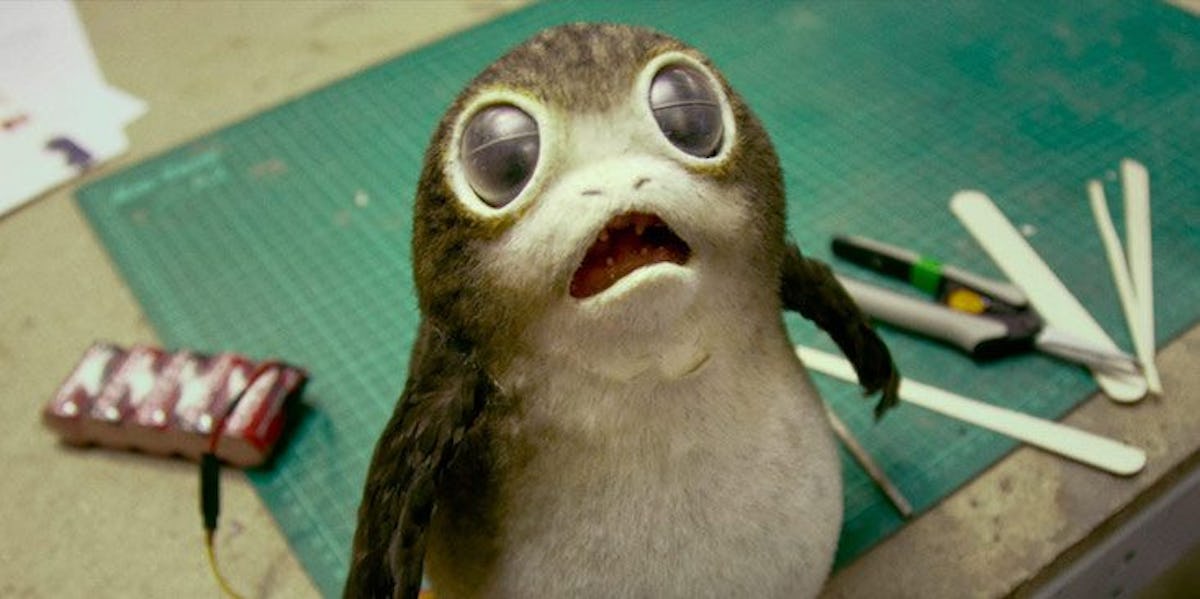 'Star Wars: The Last Jedi' Trailer Will Air During Monday Night Football, So Yay Sports
Walt Disney Studios
Listen? Did you hear that? No, it wasn't Porgs scurrying by. It was a sound like a voice tweeting out a big piece of Star Wars news... and then suddenly silenced with deletion. Blessedly though, the internet is forever, and even a production assistant quick off the mark to tell lead actor Mark Hamill he wasn't supposed to give the trailer release date away was too late. The news looks to be out. So when does the Star Wars: The Last Jedi trailer air?
The tremors in the force actually started a few days ago, when the official Star Wars account tweeted out an image that looked to be from The Last Jedi. We know it is... because it's part of a scene that was included in the first teaser, released back during the Star Wars Celebration this past spring. But the caption "Almost There" suggested something more. What was almost there? Could it be... a new trailer?
With this week marking almost three months to the day until the movie's release in theaters, fans are ready to get hyped on any small piece of news. The question is though: when? And where? And which Disney property will be rewarded with the tie into their biggest franchise?
Two years ago, the Star Wars: The Force Awakens trailer was aired during Monday Night Football, as part of the halftime commercials of one of the biggest games of the year. MNF airs on ESPN, which is Disney's biggest television behemoth, larger than the ABC network, larger than the Disney channels. With football reportedly down 12% this year in ratings, and the Monday Night Football debut at the beginning of the month badly damaged by Hurricane Irma, perhaps this would be their best bet?
It looks like the answer is yes. Some Star Wars fans predicted Oct. 16, 2017, would be D-Day. Not because the game was a particular factor, (Colts vs Titans), but because it would line up with the release date of The Force Awakens trailer that aired during MNF two years ago, on Oct. 19, 2015. (The rollout for this movie has followed the formula for that one almost to the letter.)
But it turns out they guessed wrong -- or ESPN and Disney don't want to wait that long. Because in a (now deleted) tweet, Mark Hamill gave away the goods.
Here's the screenshot:
When asked for clarification, here's how Hamill responded. (Ironically these tweets were not deleted.)
Perhaps Hamill was just trolling us (he's been known to do that.) But this smells legit, and the rush to delete the tweet so quickly suggests that the date he was shilling was, in fact, the right one -- and he wasn't supposed to give it away just yet.
The Star Wars account has neither confirmed nor denied the Oct. 9 date, and Rian Johnson is also remarkably mum on Hamill's slip up. These also suggest that the trailer really is coming that day, because if it wasn't (or Hamill was joking) they would probably say so, in order to control fan hopes and expectations.
If the final trailer drops on Oct. 9 (instead of on Oct. 16), that will mark over eight weeks of full-on promotional blitz for the coming movie, which doesn't come out until December 15. That's quite a long lead up especially for a film that has a remarkable amount of plot line and details held fully under wraps.
It does, however, help encourage sales of Halloween costumes and Christmas merchandise ahead of time, which is both just as important to Disney's bottom line as it is helping hype up the coming film. (Personally, I am still waiting on Porg emojis to populate my tweets and texts with. C'mon Lucasfilm, it's a great idea!)
Star Wars: The Last Jedi is slated for release on Dec. 15, 2017.