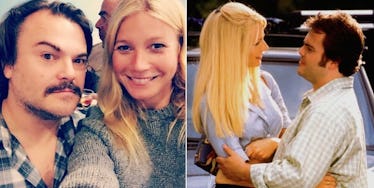 This 'Shallow Hal' Reunion Selfie Is Absolutely Everything Right Now
"Shallow Hal" was released almost 14 years ago, but there has finally been a reunion of sorts.
The stars of the fantastical romantic comedy ran into each other at an art event in Los Angeles the other night and decided to take a selfie together.
There, Jack Black and Gwyneth Paltrow snapped a photo with one another, and Paltrow posted it to Instagram.
Chances are there isn't going to be a "Shallow Hal" sequel any time soon, so this photo will have to suffice for all you rabid "Shallow Hal" fans out there. You know who you are!
Check out the photo below.
And in case you forgot, Gwyneth Paltrow wears a fat suit in that movie.
Citations: Shallow Hal reunion (Daily Mail)