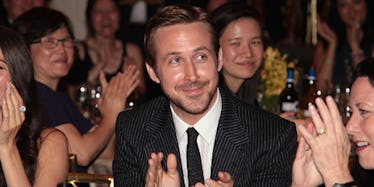 Ryan Gosling Could End Up In The 'Willy Wonka' Prequel Because Life Is Sweet
Kathryn Page/Getty Images
Well, whether we asked for it or not, it looks like we're officially getting a prequel to the 1971 classic Willy Wonka & The Chocolate Factory. 
Of course, attempting to redo such a beloved classic in any capacity is a risky move, but there are definitely some plus sides to what Warner Bros. might have in store for us.
We all remember and love Gene Wilder's famous adaptation of Ronald Dahl's cooky candy tycoon, but this time around it looks like the goofy character might be played by none other than Ryan Gosling.
Over the years, we've seen Gosling take on a range of roles from a suave ladies man in Crazy, Stupid, Love to a jazz-loving hopeful in La La Land, but this role would likely show us a whole new, much sillier side of the Academy Award nominee that we haven't seen before.
Of course, nothing is confirmed as of right now, but, according to That Hashtag Show, Warner Bros. is looking for an actor between the ages of 29 and 35 to play the title character, which puts Gosling, 36, just outside of the bracket. (Though, let's be real, I doubt they would turn away the star power that Gosling brings with him.)
Gosling himself has reportedly expressed interest in the role, which definitely puts him as the frontrunner, especially since the part will likely require someone with singing and dancing abilities.
Warner Bros. announced its plans for a Willy Wonka prequel movie late last year, and though we are not aware of any *official* storylines for the film, we do know that it will not be a sequel to the original.
It's been suggested, instead, that the movie will focus on a young Willy Wonka and how he met his Oompa-Loompa gang during one of his earlier adventures.
Like I said earlier, whether we like it or not, a Willy Wonka & The Chocolate Factory prequel is happening. I guess we'll just have to keep our fingers crossed that Ry Guy gets the lead role and that the movie doesn't disgrace the original.