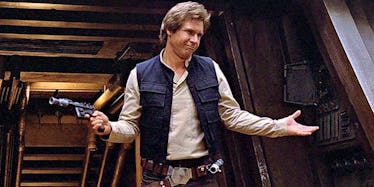 Ron Howard Reveals The Real Reason He's So Excited to Take Over The Han Solo Film
LucasFilm
The scandal currently engulfing Star Wars: The Still Untitled Han Solo Joint came and went quickly. On Tuesday of last week, directors Phil Lord and Christopher Miller were unceremoniously fired from the production. By Thursday, Ron Howard had been announced as stepping up to the plate in their stead.
Though principal photography is more than half over, Ron Howard declares himself thrilled to be taking the reigns. According to Variety, he gushed over his love for the franchise at Cannes this week. "I've been a fan forever. It's gratifying to be asked to lend my voice to the [Star Wars] universe."
Telling the story of seeing Star Wars for the first time, Howard said he and his wife stood in line for two hours to get in. They were so blown away by what they saw, they went back out right after it finished, and stood in line for another two hours just to see it again. Now that's dedication!
From the articles that keep leaking from behind the scenes, Howard isn't the only one thrilled with the decision to hire him.
According to The Hollywood Reporter's inside scoop, when the announcement came that a new director has been hired, there was applause. Things had gotten so bad, LucasFilm hired an acting coach for lead actor Alden Ehrenreich to try and get the performance out of him that Lord & Miller were failing to elicit. As they note: "Hiring a coach is not unusual; hiring one that late in production is."
Howard has apparently worked very hard to make the transition smooth and not ruffle the feathers of the recently departed. Insiders say he has been emailing with them, and there are plans to use as much of the footage Lord & Miller shot as they can.
Star Wars: The Continuing-to-be-Nameless Han Solo Joint will pull into theaters May 25, 2018, with or without an official title.