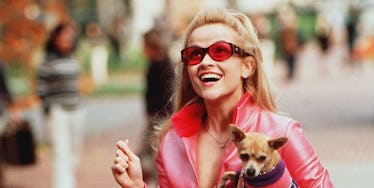 Reese Witherspoon Wants 'Legally Blonde 3' Now Because 'Women Need Positivity'
Metro-Goldwyn-Mayer
Since it looks like politicians won't save us from 2017, maybe Reese Witherspoon will.
Because according to Reese Witherspoon, there is actually a pretty solid chance of "Legally Blonde 3" happening sometime very soon.
I don't know about you guys, but a movie about smart, feminine, badass lawyer ladies is exactly what this year needs.
Thankfully, it sounds like Reese agrees with me.
In an interview with E! News, the 40-year-old actress said she was definitely on board with another "Legally Blonde" sequel.
She said,
We've thought about it. I need somebody really clever to come up with a great idea and we'll do it. I do think it's a good time to do it. I think women need that kind of positivity right now.
Um, HECK YES, I need that positivity right now, Reese!
This quote might not sound like a very serious commitment to some, but the fact Reese even admitted she and the filmmakers have "thought about" a third film is practically a marriage proposal in Hollywood speak.
And look, yes, "Legally Blonde 2 Red, White & Blonde" was something of a disaster. I will admit that.
Did I enjoy watching my favorite role model recite mediocre dialogue? No. But that's why we need "Legally Blonde 3" — so that Elle Woods can go out on a high note.
Although, even if Reese thinks the timing is right, it might be a little while before her schedule clears up to make this sequel happen.
Currently, the actress is out promoting her new HBO series, "Big Little Lies," based on the best-selling novel by Liane Moriarty, which premieres on February 19.
The show also stars Nicole Kidman, Zoë Kravitz, Shailene Woodley, Laura Dern, Adam Scott and Alexander Skarsgård, so I think it's safe to say it will be a hit.
OK, well if we can't get "Legally Blonde 3," this year, I will settle for this HBO show with its badass lady-driven cast.
Citations: Reese Witherspoon: Why the Time is Right for a Third Legally Blonde Movie (E! News)