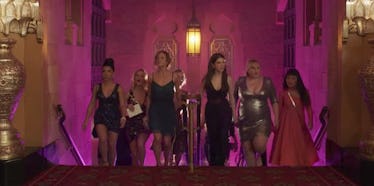 'Pitch Perfect 3' Trailer Is Filled With Action, A Capella, And Fear Of Adulting
YouTube
It's the moment you've all been waiting for — the arrival of the Pitch Perfect 3 trailer, and it takes our beloved a capella group to new heights (literally).
The Barden Bellas are experiencing that post-college shock (been there, ladies) and trying to figure out how to make sense of their new worlds. The one thing they all still want? To sing.
They decide to compete in the USO in Europe, an event that supports the troops, but the only problem is that they're up against groups who actually use instruments (which could be a minor setback).
Will this be their "big plummet" and "fade out into nothingness"?
Speaking of plummets, there are certainly a ton of action scenes that we're not accustomed to seeing from the ladies... like when Anna Kendrick is about to fall out of a plane.
Would you take a look at this? It's totally aca-action-packed, right?!
In an exclusive interview with Elite Daily, Anna Camp, who plays Aubrey, said things take a turn in the third film.
"It's definitely a lot of singing, a lot of dancing, as usual, but there's a lot of action in this one and we see a couple of explosions," she said. "I don't want to give anything away, but we're definitely singing for our lives. Like, literally singing for our lives."
Oh snap, this is taking things to new levels!
She added, "It's totally different from the first movie when we were just singing in school gyms when we were filming; this time they built an entire yacht and we're jumping into this huge pool of water, so it's going to be nuts."
We're sorry to break the news, but you're going to have to wait until Dec. 22 for the arrival of Pitch Perfect 3. Don't worry — you're totally not going to be the only one rewatching the trailer a million times until the movie is released.
Pitches, we're comin' for ya!