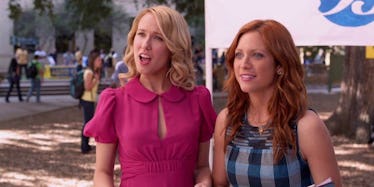 Anna Camp Says 'Pitch Perfect 3' Is An Explosion-Filled Action Movie – EXCLUSIVE
Gold Circle Films
Pitch Perfect fans are in for a shocking, genre-shifting new movie from the franchise with Pitch Perfect 3.
The first two movies may have been fun, lighthearted romps full of singing and dancing, but apparently, the upcoming third movie turns the volume way up to create a high-octane action flick!
I chatted with Anna Camp at a quaint house in New York (part of a partnership with NESTEA to launch a new line of real-brewed iced teas), and she spilled the tea on everything fans can expect from Pitch Perfect 3, including shifting directors, incorporating more improv than ever, and the emotional scene she hopes will touch all the viewers.
Check out the full interview below:
Elite Daily: Hi Anna! We're all very excited for Pitch Perfect 3. Can you let us know what to expect from this one, and how it's different from the first two?
Anna Camp: It's definitely a lot of singing, a lot of dancing, as usual, but there's a lot of action in this one and we see a couple of explosions. I don't want to give anything away, but we're definitely singing for our lives. Like, literally singing for our lives.
ED: So it's like an action movie this time?
AC: Yeah, it's totally different from the first movie when we were just singing in school gyms when we were filming... this time they built an entire yacht and we're jumping into this huge pool of water, so it's going to be nuts.
ED: You're character Aubrey was a big part of the first movie, but only showed up for one scene in the second one. How much can we expect to see you in this one?
AC: The third one I'm definitely in way more than the second one. There's a reason why we have to go travel, and I can't give too much away, but it will have to do with my dad.
ED: Oh, so you're a central character in this one then!
AC: Yeah! It was so fun to shoot.
ED: And now you're all out of college and in the real world.
AC: Yeah, we all get back together and craziness ensues.
ED: It's interesting that each Pitch Perfect movie has had a different director: It's shifted from Jason Moore to Elizabeth Banks, and now Trish Sie is directing. How have those shifts affected the movies?
AC: It's been really interesting to do three movies playing the same character with different directors because they all have variations on a theme. I'm excited to see how this one comes together because Trish is just so fun, and improv was the name of the game. We kind of got to do whatever wanted and she gave us a lot of freedom, so I think it's going to be really really funny.
ED: So you'd say this is the most improv-heavy one?
AC: I think so. The first one we really all stuck to the script for the most part, and the second one I just popped in for the camp scene, and that didn't allow for a lot of improv, so I think the third one is going to be the most improv-heavy out of all of them for sure.
ED: I think another reason that people are so drawn to these movies is the bond you guys have as a cast off-screen. How did that personal relationship between you all develop?
AC: We're really close, especially now after traveling together. Everyone's always asking us if we're really good friends, and people can't believe it because it's like 'A group of girls that really get along that well? That can't be true.' But it actually is, and it's refreshing to know that you can work as a team of females together and not be competitive — really coming together for the greater cause and having a blast while doing so. We really lucked out with the team of people that we're working with and they're going to be lifelong friends for sure.
ED: Do you have a favorite moment or memory from filming these movies?
AC: I can't really give too much away about this third one, but there is this scene where it's really moving! And that's the great thing about these movies is that they can be hysterical, you're laughing like crazy, and in a second you can go to crying and really feeling the heart of these films. And I think that's why people are really drawn to them because it runs the gamut between all of that. You really fall in love with the characters. There is a scene in the third that's super moving and I hope people are as moved watching it as we were shooting it.
Pitch Perfect 3 will land in theaters on December 22.