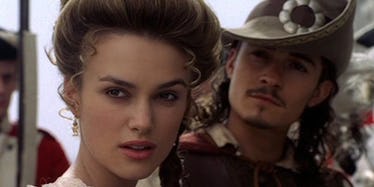 A Major 'Pirates Of The Caribbean' Theory About Will And Elizabeth Was Confirmed
Disney
It turns out the new star of the "Pirates of the Caribbean" franchise actually has a long history in the movies.
Disney just confirmed one of the most predominant fan theories about newcomer Brenton Thwaites' character in the upcoming fifth movie.
As soon as the first trailers for "Pirates of the Caribbean: Dead Men Tell No Tales" were released, fans began theorizing that the new pirate on the block might not actually be so new after all.
Pretty much immediately after Brenton Thwaites (best known for helming 2014's "The Giver") popped up, everyone started guessing he might just be the son of Will Turner and Elizabeth Swann.
And the fans were right! Although Keira Knightley might not be appearing in the new "Pirates" flick (that we know of yet), a piece of Elizabeth Swann will live on in the movie in her son Henry.
A new Disney featurette just confirmed Brenton's character will be named...
YEP — Henry Turner! So he's pretty clearly the sone of Orlando Bloom's Will Turner and his wife Elizabeth Turner. It sounds like fans are finally going to get the connection to the original films they've been waiting for.
After starring in the first three movies in the "Pirates" franchise, Orlando Bloom and Keira Knightley both dropped out before the fourth movie, which was centered exclusively on Johnny Depp's character of Jack Sparrow.
Now, Bloom has signed on again to appear in "Dead Men Tell No Tales," and there are rumors Knightley may pop up in a brief cameo.
We first saw Will and Elizabeth's son in the post-credits scene of the third movie, "At World's End," in which Elizabeth and her adolescent son watch Will return from sea.
Apparently, in the new movie, Henry Turner is going to be hitting the seas to try to reconnect with his father, which will be tricky now that Will has transformed into the barnacle-covered captain of the Flying Dutchman.
"Pirate's of the Caribbean: Dead Men Tell No Tales" will be released on May 26.