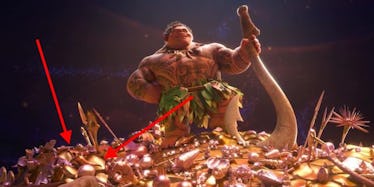 Hidden Connection Between 'Moana' And 'Aladdin' Will Blow Disney Lovers' Minds
Disney
If you were paying attention during Disney's "Moana," maybe you noticed some small shoutouts to other Disney classics like "Aladdin."
If you, like me, were drunkenly sobbing over how beautiful it was, you probably did not.
Luckily for us, Disney released an official video highlighting the connections between the two films as a featurette for the upcoming "Moana" Digital HD and Blu-ray.
(I guess Disney didn't think we were smart enough to find them ourselves.)
In the video, Moana voice actress Auli'i Cravalho walks us through the hidden nods to Disney's 1992 classic "Aladdin," as well as a few other "Moana" Easter eggs.
The biggest "Aladdin" shoutout is hidden in the scene where Maui retrieves his magical fish hook from Tamatoa.
Look closely at the pile of treasures on Tamatoa's back. Notice anything?
It seems Tamatoa has another magical item in his possession...
...yep, it's the magic lamp from "Aladdin"!
So what does this mean?
It's hard to know if "Moana" is set before or after the timeline of "Aladdin," but if it was set before, it's possible everyone's favorite Genie is trapped in there throughout all of "Moana."
There's another little "Aladdin" nod in the form of the magic carpet.
Though as Auli'i explains, this version of the carpet is made out of tapa, and so it (probably) can't fly.
Why so many Easter eggs for "Aladdin" specifically?
Auli'i explains that, too. Both "Moana" and "Aladdin" were directed by the same guys, Ron Clements and John Musker. There are even a few scenes where you can spot their images in "Moana."
Clements and Musker also directed "The Princess and the Frog," "Treasure Planet," "Hercules," "The Little Mermaid" and "The Great Mouse Detective." So these guys are pretty important in terms of shaping all our childhoods.
"Moana," along with all these special features, will be available for digital download on February 21 and on Blu-ray, DVD and On Demand on March 7.
Citations: Can You Spot All the Aladdin Easter Eggs in Moana? (E! News)