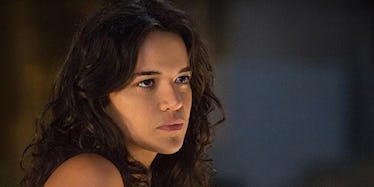 Michelle Rodriguez Calls Out 'Fast & Furious' For Sexism, Threatens To Leave
Universal Pictures
Michelle Rodriguez is taking a polite but firm stand against the Fast & Furious franchise's treatment of women.
Tuesday marked the digital release of the latest Fast film, The Fate of the Furious, and the 38-year-old actress did her part to promote her franchise – sort of.
In an Instagram post of some set photos, Rodriguez used the caption to call for "love to the women of the franchise" in the next film, and ever-so-gently threatened to leave the franchise otherwise.
Rodriguez wrote in the caption,
F8 is out digitally today, I hope they decide to show some love to the women of the franchise on the next one. Or I just might have to say goodbye to a loved franchise. It's been a good ride & Im grateful for the opportunity the fans & studio have provided over the years... One Love.
Phew. That sounded a lot like a goodbye to me!
It would certainly be a loss for fans if she left. Rodriguez has been a starring member of the Fast & Furious franchise since the very first film, The Fast and the Furious, in 2001, and has reprised the role four more times since.
She plays the role of Letty Ortiz, originally introduced as Dominic Toretto's (Vin Diesel) girlfriend, but later becomes a mechanic and street racer.
Letty has become particularly vital in the franchises most recent films, Furious 7 and The Fate of the Furious, as Letty and Dom have circled back to their complicated love story. The two ended the last film finally happy and together.
At least two more Fast & Furious films are in the works for 2019 and 2021, bringing the franchise to a total of 10 movies.
Previously, the full cast was expected to return for both films. Should Rodriguez bail, and leave Fast 9 with no Letty, it would certainly have the writers scrambling.
I guess the Universal Pictures execs better go back to the drawing board and figure out how to get more than one woman in their billion dollar franchise!