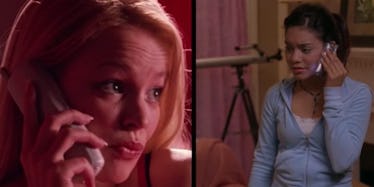 Someone Made An Epic 'High School Musical' And 'Mean Girls' Mashup
YouTube
Every high school movie has that one girl. She's blonde, she's the star of the school, she may make you realize you are absolutely terrified of women.
Regina George from "Mean Girls" is quite possible the best example of that high schooler. Fear and admiration go hand-in-hand with the character portrayed by Rachel McAdams.
She was cunning, calculating and feared by students and teachers alike.
OK, let me ask you a question. Who here secretly believes McAdams should appear as Regina in every teen comedy?
Thankfully, ElleoftheMills is back at it again with her spot-on video editing skills.
(You may remember her as the genius who turned "The Lizzie McGuire Movie" into a thriller that could easily be the next "Gone Girl.")
Elle combined two of our favorite high school movies, "Mean Girls" and "High School Musical," to create something that is perfectly snarky and romantic.
After all, why shouldn't Regina George be a Wildcat?
Sharpay would hold no competition to Regina's mean girl status, so she is left entirely out of the trailer, and Troy Bolton is Regina's ex instead of Aaron Samuels.
Regina is both the villain and the hero, trying to steal Troy back from goody-two-shoes Gabriella.
Honestly, is there any character who is more innocent and pure than Gabriella? NO ONE THAT GOOD EXISTS.
The editing is pretty seamless, as Elle mashes up party scenes and events taking place in the school's auditoriums. Also, it probably helped that Zac Efron and Jonathan Bennett's heads are a lot alike.
"Mean Girls" and "High School Musical" were made in the 2004-2006 timeline where all dudes rocked that same haircut.
Regina George and Troy Bolton would probably be a terrible couple, though.
I can't imagine Regina supporting the basketball star's secret ambitions of joining musical theater.
Still, a girl can dream.
Citations: What Would Happen If Regina George Joined High School Musical? The Internet Has an Answer for That (E Online)