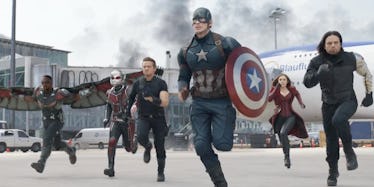 This Major Marvel Character Will Not Appear In 'Avengers: Infinity War' & It's A Huge Let-Down
Marvel
Marvel fans are going to have to wait a bit longer to finally see one of the franchise's most iconic heroes on the big screen. Director Joe Russo confirmed to Comicbook.com Brie Larson's Captain Marvel won't appear in Avengers: Infinity War next year. Fans suspected the third superhero team-up in the franchise may introduce Captain Marvel into the cinematic universe, but unfortunately, it sounds like that's not going to happen.
Almost exactly a year ago, Marvel cast Brie Larson to play Captain Marvel in the franchise's upcoming films. At Comic-Con over the weekend, the studio revealed a Captain Marvel standalone movie is set to premiere in 2019, which will be set in the '90s and feature iconic Marvel villains the Skrulls. The panel also gave fans their first look at Larson in her full Captain Marvel glory.
And although 2019 seemed like a long time to wait to finally see Captain Marvel on the big screen, fans weren't too worried because many of them assumed the super-powered Carol Danvers would be making her movie debut earlier than that, in the upcoming Avengers: Infinity War, which is due out May 4 of next year. Unfortunately, that's not going to happen, and fans will just have to wait until the Captain Marvel stand-alone in 2019.
But there will still be more than enough iconic superheroes flying around in Avengers: Infinity War to make up for Captain Marvel's absence. Every other hero introduced in the Marvel Cinematic Universe will team up in the new flick to take on the intergalactic tyrant Thanos, played by Josh Brolin.
Although Captain Marvel missed the cut to join the gang in this one, she's sure to be in the action for Avengers 4, which is already lined up to premiere on May 3, 2019. Captain Marvel will hit theaters just a couple months earlier on March 8, 2019.