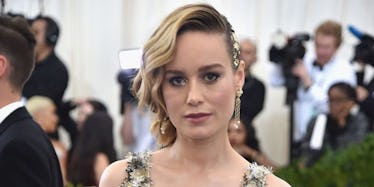 Brie Larson's Look In 'Captain Marvel' Has Been Revealed And It's Super Badass
Theo Wargo/Getty
This is amazing. The look of Brie Larson's Captain Marvel was revealed on Saturday, July 22 at San Diego Comic-Con and it's seriously badass.
According to photos leaked from the panel, this is the concept art that has been released for the 2019 movie.
The photos show a mock-up Larson in action, with a leather-tight jumpsuit in red and blue with some metallic accents. I think there's no denying that she'll be one of the top Halloween costumes in 2019 (this year will be Wonder Woman, of course).
The panel also revealed a few more details about the upcoming Captain Marvel movie. For one, Nick Fury will have two eyes. It's safe to say fans are shook over it.
Another interesting detail released about Captain Marvel that was a big surprise: It's going to be set in the '90s.
This left a lot of questions for fans, being that Avengers: Infinity War (a movie Captain Marvel will be in, I should mention) is set in present day. Where did she go in between, with all that time to kill?
Larson previously spoke about her new role as Captain Marvel with SciFi Now, saying some fans may not like her version of the superhero. She said,
Speaking with SciFi Now, she revealed:
To be fair, there are a lot of iterations of her, so there's going to be some people there who think this isn't right ... She's a believer in truth and justice and she is a bridge between Earth and space.
As far as her playing as big of a character as Captain Marvel, Larson revealed that she feels great responsibility. She told the Sunday Times,
I want to create this symbol of strength and humor for women that I really wish I had had growing up. It feels so valuable.
Captain Marvel is set to release in March of 2019.