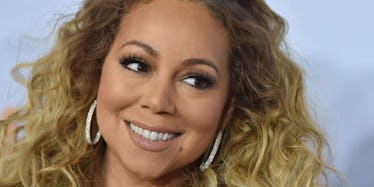 Mariah Carey Is Playing Herself In Will Ferrell's New Movie, And We Can Expect Blood
Getty
Mariah Carey is leaning into her comedy career yet again in Will Ferrell and Amy Poehler's hilarious-looking new movie The House, but apparently, her role is going to be a lot gorier than fans will likely expect.
According to her new costar Rob Huebel, Mariah gets shot and killed in the new flick.
Huebel told Entertainment Weekly Radio all about Mariah's time on set for her cameo, which apparently was not very fun for the rest of the cast. He revealed Mimi made various demands, including having her trailer filled with white roses and stuffed lambs, and refused to sing the song the movie had initially hired her to sing. She even had some notes to give the team about the script!
Apparently, Mariah will be playing herself in the movie, and Huebel revealed her character gets shot and killed. But Mariah was reportedly not too happy about that and pitched a different idea for her role.
They were going to do this bit where they shoot her and kill her in the movie, but she didn't want that. She was like 'I don't think my character would get killed by bullets. What if I deflected them like Wonder Woman?'
Yep — I guess Mariah thought she was on the DC Comics set or something because she wanted her character of herself in his comedy movie to have all the powers of Wonder Woman.
Huebel went on to say he doesn't know if the shooting scene actually ended up in the movie or not.
Check out his full interview about Mariah's antics below.
This will not be the first time that fans will see Mariah Carey stretching her acting muscles in a comedy. The diva has also played herself in 2008's Don't Mess with the Zohan and last year's Popstar: Never Stop Never Stopping. She's also tackled dramatic roles in critically lauded films such as Precious and The Butler.
The House stars Will Ferrell and Amy Poehler as parents who decide to run an underground casino in order to raise enough money to send their daughter to her dream college. It costars fellow buzzy comic actors like Jason Mantzoukas, Lennon Parham, Michaela Watkins, and Rob Huebel.
The House lands in theaters on June 30.
Citations: Rob Huebel spills about Mariah Carey demands on set of "The House" (Entertainment Weekly Radio)