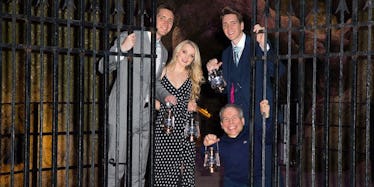 Luna Lovegood And The Weasley Twins Had A Reunion And It Was So Magical
REX/Shutterstock
Luna Lovegood, the Weasley twins and Professor Flitwick all go into the Forbidden Forest together.
This sounds like the beginning of a really terrible "Harry Potter" fan fiction or the beginning of a really great joke, but it's actually just a thing that happened on Tuesday.
Actors Evanna Lynch, Oliver Phelps, James Phelps and Warwick Davis reunited for a photo op for the grand opening of the Forbidden Forest exhibit at the Warner Bros. Studio Tour in London.
Because "Harry Potter" will never truly be over... not as long as those in charge of it (Warner Bros.) keep thinking of new ways to make money off it.
The latest in that magical money-making quest is this brand new leg of the studio tour, which will allow visitors to explore the set of the Forbidden Forest. (I assume it is not so forbidden anymore.)
This new expansion will display the set created by Oscar-winning production designer Stuart Craig as well as creatures and costumes found in the forest — like the giant spider Aragog.
This will all be open to the public on March 31, but on Tuesday, Evanna, Oliver, James and Warwick got to explore the forest first.
And in the true spirit of the Forbidden Forest journey, they brought lanterns.
Earlier this month, the actors got another sneak peek at the Forest, where they got to meet everyone's favorite Hippogriff, Buckbeak.
This time Luna and the Weasley twins were accompanied by Lucius Malfoy (aka, actor Jason Isaacs) instead of Professor Flitwick.
Buckbeak seemed happy to see them, in his own inanimate object way.
Evanna even recreated an iconic Luna moment from "Harry Potter and the Order of the Phoenix."
(Yes, I know that was actually with a Thestral and not Buckbeak, but still.)
All in all, it was a pretty magical reunion, and it probably won't be the last.
After all, just last month, father and son Malfoys, Jason Isaacs and Tom Felton, reunited at the Wizarding World in Orlando, Florida.
Ah, the magic of a Warner Bros. promotion check!