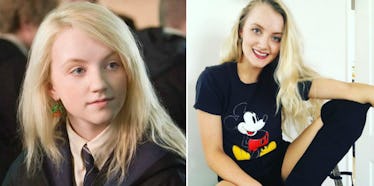 Luna Lovegood From 'Harry Potter' Is All Grown Up And Insanely Hot
Instagram
On Thursday, the "Harry Potter" world was turned on its head following the news Pottermore released an online test allowing fans to find out what their Patronus is.
According to reports, "Harry Potter" author JK Rowling made the test herself, so you know it's 100 percent foolproof.
I haven't taken the Patronus test yet, but I know someone who has.
Evanna Lynch, who played Luna Lovegood in the "Harry Potter" films, took the quiz and was utterly disappointed to discover her Patronus is, wait for it, a salmon.
I don't geddit @pottermore...all of my happiest memories are spent in the presence of cats. Why oh why is my Patronus a SALMON?! #Patronus — Evanna Lynch (@Evy_Lynch) September 23, 2016
Look, I have no issue with salmon. That pink swimmer is at the top of the fish pantheon if you ask me, and everyone, Luna Lovegood included, should really give salmon its due.
In any event, something else we discovered yesterday, in addition to the fact Luna Lovegood is protected by a salmon in real life, is that Evanna Lynch is insanely hot.
Hold on to your witches and wizards hats, boys and girls, because Luna Lovegood from "Harry Potter" is all grown up, and she's sexy AF.
Actress Evanna Lynch is perhaps best known for her role as Luna Lovegood in the "Harry Potter" films.
In the films, Lovegood was a cute, quirky girl. Now, she's all grown up...
...and she's insanely hot!
Like, Ms. Lynch, are you single? Can I get your number?
Luna Lovegood is 25 now, and my what a beautiful witch she's become.
The Irish actress auditioned and beat out 15,000 other girls to become Luna Lovegood, and we're sure glad she did.
I mean, who would've thought Luna Lovegood would grow up to be such a babe?
Sure, she was awesome in the "HP" films, but this woman is a straight-up 10 now.
According to reports, Lovegood actually dated the actor who played Young James Potter in "Harry Potter and the Order of the Phoenix."
Following her role as Luna Lovegood in "Harry Potter," Evanna Lynch appeared in "Apex," a short film which looks, uh, interesting.
In addition to her acting roles, Lynch has been an advocate of promoting health and wellness for young girls.
It was during her time in a rehab clinic at the age of 11 Lynch read "Harry Potter" and identified with the character of Luna Lovegood.
Luna Lovegood, you're gorgeous, and even if your Patronus is a salmon, we love you just the same.
Citations: msevylynch (Instagram)