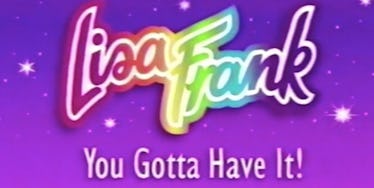 A Lisa Frank Movie Is Officially Happening So 2017 Isn't Looking Too Bad
Second grade me was all-around a better person.
She scored perfect attendance one marking period (for the first, and last time), she was kind to her peers (my peers are my enemies now), she was athletic and ate all of her veggies (I literally cannot remember the last time I ate a green bean)...
And her school supplies were COVERED WITH WHAT SHE IMAGINED UNICORN VOMIT LOOKED LIKE.
Flying whales, unicorns with rainbow horns, brightly colored large cats, purple panda bears -- this is what dreams are made of, my friend.
Nothing could go wrong as long as my math homework was finished and tucked safely inside my Lisa Frank paraphernalia.
Oh, God. How many hours did I spend staring at the office supplies section of our local trading post while waiting for my mom to finish the grocery shopping?
I would gently caress the sweet, sweet techno-colored three-ring trapper keeper that would ensure my continued second grade popularity for another day...
While you may have not thought of these school supplies since the '90s, the artist Lisa Frank is currently working on a featured film based on her art, which if we are being honest, makes Vincent van Gogh look like a goddamn amateur.
According to Variety, the movie will be a hybrid of live-action and animation -- all of the trippiest movies are -- and there will be no shortage of psychedelic rainbow-colored friends.
So, yeah, people are probably going to take drugs before seeing it.
Apparently, there will be a lack of "snark" in the movie.
John Shestack, the producer, said,
Lisa Frank's world is cheerful, it's optimistic, it's hip, but it is without snark. It's just sort of impossible to scowl when you're smiling, and why would you want to? I'm so stoked to be part of this.
Frank, who launched the brand in 1979, is excited to bring her characters to life on the big screen, as they have been "alive in [her] imagination since the beginning."
There's no set release date yet, but it makes 2017 a little more bearable.
Citations: A Lisa Frank Movie Is Coming And Everything Is Going To Be Okay (Cosmopolitan)