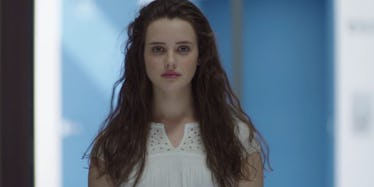 '13 Reasons Why' Star Had A Minor Freak Out Because She Thought Her Nudes Leaked
Netflix
Katherine Langford just proved she's totally on the same page as all of us would be if our friends were screaming at us to check social media: You just assume the worst.
Celebrities — they're just like us!
While on The Tonight Show Starring Jimmy Fallon, Katherine Langford talked all things 13 Reasons Why, Lady Gaga aaaand the minor freak out she had when a bunch of her friends told her to check Twitter immediately.
Langford told Fallon she actually doesn't have Twitter. So after filming late one night, she came back to several missed calls and texts and to her publicist telling her, "Katherine, you need to go onto Twitter right now."
Langford — who plays Hannah Baker on 13 Reasons Why — revealed she immediately assumed the worst, thinking, "Sh*t, my nudes have leaked. That was my thought."
Honestly, Katherine, same. My nudes leaking is probably my (and Twitter's) absolute worst nightmare.
Luckily for the 21-year-old actress, none of her nudes leaked. Instead, it was just one of her main inspirations, Lady Gaga, tweeting about her. (Yeah, this part isn't so relatable for the rest of us.)
Earlier in the segment, she explained to Fallon how Lady Gaga actually shaped a lot of her interests growing up and described how going to see a Lady Gaga concert even inspired her to teach herself new skills:
She did this song called 'Princess Die,' and I just remember, like, being so enamored by her and that particular song that I went home, and that week, I taught myself how to play it. Like, I went on YouTube and I watch a tutorial 'cause I'd never played piano or anything before.
Yes, Lady Gaga can do all things, you guys — even teach people how to play piano without actually teaching them how to play piano.
The tweet the 31-year-old singer quoted actually a included a clip of an interview with Langford and her co-star Dylan Minnette, in which the two were asked to name their favorite bands in high school.
In the clip, Langford confirmed that it was indeed Mother Monster who was her favorite artist and who inspired her to go into acting in the first place.
Fortunately for 13 Reasons Why fans, Netflix recently confirmed a second season of 13 Reasons Why and revealed the new episodes will "[pick] up in the aftermath of Hannah Baker's death and the start of the characters' complicated journeys toward healing and recovery."
Showrunner Brian Yorkey told The Hollywood Reporter, 
Hannah's story is still very much not finished. She's an integral part of whatever the next chapter of the story is, and she's very much still at the center of it.
Now, fans can rest easy that season one was not the end of Hannah's story, and Langford and the rest of us can rest easy knowing our nudes aren't anywhere on Twitter.
Citations: Why This 13 Reasons Why Star Thought Her Nudes Leaked (Refinery29)