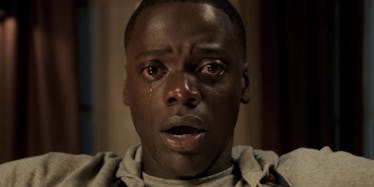 The Trailer For Jordan Peele's Thriller Movie Dropped And It Looks Creepy AF
YouTube
You probably know Jordan Peele best for his work on his hilarious sketch show on Comedy Central, "Key and Peele."
Maybe even for his comedy film, "Keanu," or from way back during his stint at "Mad TV."
Needless to say, Jordan Peele is a hilarious guy.
But, as few may know, comedians are pretty f*cked up. They can see the world in a totally different way from others -- that's why they can create such a funny spin on situations.
Or, they can create very, very creepy spins on situations.
Case in point? The trailer for Jordan Peele's "Get Out."
Starring Daniel Kaluuya, Allison Williams, Catherine Keener and Bradley Whitford, the horror film that Peele wrote and directed is being released by Universal on February 24, 2017.
Kaluuya plays a boyfriend meeting his girlfriend's parents (Keener and Whitford) for the first time upstate. Allison Williams plays Kaluuya's girlfriend.
At first, Kaluuya's character believes her family acts the way they are, in a saccharine sweet and accommodating manner, because he is an African American.
He thinks they are overcompensation to hide their discomfort of their daughter being in an interracial relationship.
However, as the weekend wears on, he realizes there may be a far more sinister meaning behind their actions.
Peele told Rotten Tomatoes,
The lead is a black man, which is already an atypical horror movie. I don't think it's been done since 'People Under the Stairs' and 'Night of the Living Dead.' I'm obsessed with the link between horror and comedy. I think they're very close. They're both about getting a very physical kind of reaction. It's about tension and it's about the release of tension. At its most comedic, it'll be like 'Scream' or the original 'Stepford Wives.' So, no, it's a horror movie, but it's a satirical premise.
Also appearing in the film are Caleb Landry Jones ("X-Men" series), Keith Stanfield ("Straight Outta Compton), Milton "Lil Rel" Howery, Marcus Henderson ("Pete's Dragon") and Betty Gabriel ("The Purge: Election Year").
Citations: Jordan Peele's Thriller 'Get Out' Gets Trailer, February Release Date (Variety)