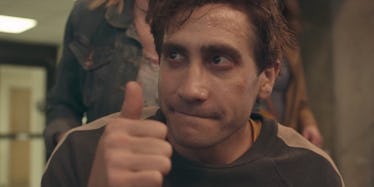 The First Emotional Trailer For Jake Gyllenhaal's Boston Marathon Movie Is Here
Lionsgate/Roadside Attractions
Jake Gyllenhaal and Tatiana Maslany take on the emotional topic of the 2013 Boston Marathon in the first trailer for Stronger.
The film depicts the true story of a victim of the Boston Marathon bombing, Jeff Bauman, who was waiting at the finish line to cheer on his girlfriend Erin Hurley (Maslany).
Bauman survived the attack but lost both of his legs. He became a symbol of the bombing after a photo of him being rushed out of the scene, clutching his injured leg, was widely circulated. Bauman woke up in the hospital and told nurses he saw the attack and was later able to help police identify the bomber.
Stronger is directed by David Gordon Green (known for directing Pineapple Express) and written by John Pollono (known for his role as Tyler on This is Us). The film is based on Bauman's 2015 memoir of the same name.
Another film adaptation of the 2013 Boston Marathon, Patriots Day starring Mark Wahlberg, already hit theaters last fall in 2016.
Patriots Day, which was a box office disappointment but generally well-received by critics, took a more widespread look at several victims of the bombing and the FBI investigation, starring Wahlberg as a Boston police sergeant. The film was directed by Peter Berg.
Stronger, on the other hand, is focused more on Bauman's individual story and journey to recovery.
This will be Tatiana Maslany's first starring feature role since her breakout success on the Canadian TV series, Orphan Black. She plays Bauman's girlfriend, Erin Hurley, who was running in the marathon but was uninjured after the explosion.
Bauman and Hurley's relationship and eventual marriage attracted attention from the media, but earlier this year it was reported the two were filing for divorce.
Bauman and Hurley had a daughter, Nora, in 2014, and married a few months later.
Stronger will hit theaters this fall, on September 22.