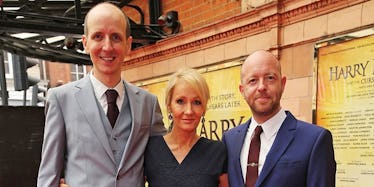 'Harry Potter' Playwright Trades Wands For Lightsabers, Signs On With 'Star Wars'
(Photo by David M. Benett/Dave Benett/Getty Images)
In the fandom ecosystem, the people are represented by two separate yet equally important groups: the sci-fi nerds, who adhere to Star Wars; and the fantasy lovers, who want to go to Hogwarts. These are their stories. Well, these have been their stories. This separate but equally important division of fandoms melted down this morning, with the announcement that the new Star Wars: Episode IX writer is Jack Thorne, who wrote last year's London West End hit Harry Potter and the Cursed Child.
Those deep into the saga of How Your Star Wars Sausage Gets Made will know that bringing Thorne aboard represents the first set of rewrites of the script for the 2019 production. There is already a script for Episode IV that was written by the movie's director Colin Trevorrow and his writing partner Derek Connolly.
Sources will only say at this time that "a fresh set of eyes was needed," and do not tell us how extensive Throne's rewrites are expected to be, or if this represents taking the movie in a new direction. The script for Star Wars: The Last Jedi (aka Episode VIII) was also written by its director, Rian Johnson, who did not have anyone brought in to oversee his work in this way.
But then again, Johnson was lucky not to have a massive flop come out between the time he was hired to work on Episode VIII and filming it. Trevorrow, on the other hand, has had a flop of immense proportions this spring, with The Book of Henry. Said movie was so bad, critics not only found to be terribly written and directed, but had many questioning Trevorrow's attitudes towards female characters, his overall judgement as to what makes a good story, and if he was even fit to take on something like Star Wars.
The making of The Book of Henry wasn't a trainwreck itself, just the final product, which is why Trevorrow is still on to direct, unlike Josh Trank, who was removed for his Star Wars stand alone after The Fantastic Four publicly flopped in much the same manner. But it seems that those at the top want someone to take a good hard look at the material he's working with before production begins.
Jack Thorne is a perfect person to do this. While some fans have complained about the fanfiction nature of Cursed Child, the overall response from audiences has been rapturous, and the show swept at the Olivier Awards this past spring.
Thorne himself brings a massive pedigree to the project, having written several BBC hit shows. His current projects put him solidly in the fantasy wheelhouse, with work on the BBC's upcoming television adaption of Phillip Pullman's His Dark Materials and Channel 4's Philip K. Dick's Electric Sheep.
So don't worry Star Wars fans, your final installment of the long awaited Episodes VII-IX is in good hands. But I can't help it if Rey decides in the end to follow in her mother's footsteps and heads to Hogwarts, instead of being a Jedi like her father before her. I'm sure Finn and Poe will understand when she does.