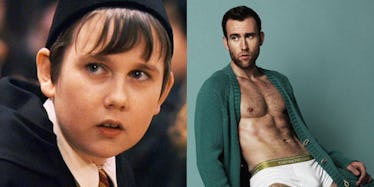 The Cast Of 'Harry Potter' Actually All Grew Up To Be Insanely Hot (Photos)
Like most magic-loving Muggles, I was completely and utterly obsessed with "Harry Potter" as a kid.
Since Hogwarts never sent me my damn acceptance letter (I'm pretty sure the owl just delivered it to the wrong address), I had to settle for mastering my spells with a makeshift Muggle wand and living vicariously through Harry, Ron and Hermione.
Yes, I know, I was a huge nerd as a child.
If you also happen to be a "Harry Potter" fan, you probably remember how geeky those Hogwarts kids were throughout the series as they transitioned through those painfully awkward preteen years.
But now, these wizards are all grown up, and although you'd never believe it, some of them are actually pretty damn smoking hot.
No, really, even Neville Longbottom.
Thanks to the powers of the Internet, we were finally able figure out what these guys have been up to since they took down He-Who-Must-Not-Be-Named, and trust me, their magical transformations do not disappoint.
Take a look at the pictures below to see the cast members from "Harry Potter" all grown up.
Harry Potter (Daniel Radcliffe)
Rupert Grint (Ron Weasley)
Emma Watson (Hermione Granger)
Bonnie Wright (Ginny Weasley)
Tom Felton (Draco Malfoy)
James and Oliver Phelps (Fred and George Weasley)
Alfred Enoch (Dean Thomas)
Robert Pattinson (Cedric Diggory)
Devon Murray (Seamus Finnigan)
Katie Leung (Cho Chang)
Matthew Lewis (Neville Longbottom)
Freddie Stroma (Cormac McLaggen)
Harry Melling (Dudley Dursley)
Clémence Poésy (Fleur Delacour)
Evanna Lynch (Luna Lovegood)
Sean Biggerstaff (Oliver Wood)
Stanislav Ianevski (Viktor Krum)