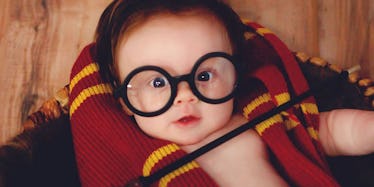 This Baby's 'Harry Potter'-Themed Photo Shoot Is Completely Dumbledorable
Kayla Layla Photography
A lot of my friends are coming down with baby fever, and after seeing this photo shoot, I think I'm catching it, too.
Kayla Glover is a stay at home mom and photographer for her own business, Kayla Layla Photography.
Glover mainly does family photography -- but not just for other people. She recently had the most genius idea to have a "Harry Potter"-themed photo shoot with her baby girl as the model.
Kayla dressed up her then 3-month-old, Lorelai Grace, as Harry Potter, and the results were incredible. Some call it magical, but I'd call it Dumbledorable.
Yes, I thought that one up all by myself. I am proud.
Like Siriusly? Even the hair is on point.
This baby is so photogenic!
While her mom said she didn't have any problems doing the shoot because Lorelai is so easy-going, the baby "enjoyed trying to chew on the wand any chance she got, and her little face looked so silly when the glasses would slip down her nose."
I Neville thought something could be so freaking cute. But here she is.
Look at that smile. *I'M MELTING, I'M MELTING.*
... Oh, wait. Wrong wizard movie.
Riddikulus-ly precious. Nothin' Ron with that, though.
Lorelai be like, "Which book should I read next?'
Glover, the baby's mom, said,
I wanted to be sure to include my original set of books because they mean so much to me and represent such a fun part of my childhood.
They see me Rowlin'. They hatin'.
Even this baby's mean mug is darling!
The Illinois based mom-slash-photographer talked all about her photo shoot during an interview with The Huffington Post. Glover explained,
I've been a 'Harry Potter' fan since I was 10 years old. It is fair to say I always planned to introduce my children to the series at a young age.
And it doesn't stop there! We can maybe expect another "Harry Potter" photo session with this adorable child! Her mom teased,
Now that her hair has changed to red, I'm thinking I'll at some point need to make her a Weasley as well!
See more of Kayla Glover's work on her website, Instagram and Facebook! You will definitely not be disappointed.
Citations: 3-Month-Old Baby Has A 'Harry Potter' Photoshoot And It Couldn't Get Any Cuter (BoredPanda), This Baby Had A 'Harry Potter' Photo Shoot And It Was Magical (Huffington Post)