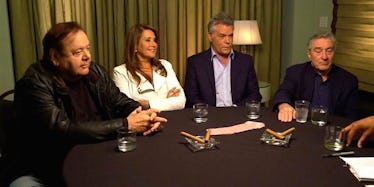 The Cast Of 'Goodfellas' Reminisces On The Iconic Movie 25 Years Later (Video)
It's the 25th anniversary of the release of Martin Scorsese's masterpiece "Goodfellas."
To mark the occasion, some of the cast members got together to talk about the film at the Tribeca Film Festival.
They also gathered to chat about the iconic mob movie on the "Today" show.
Robert De Niro, Lorraine Bracco, Ray Liotta and Paul Sorvino all spoke about their experiences while working on the film.
Unfortunately, Martin Scorsese and Joe Pesci were not in attendance, but it's still an in-depth look at one of the greatest films ever made. Check it out above, and then "go home and get your fuckin' shinebox."