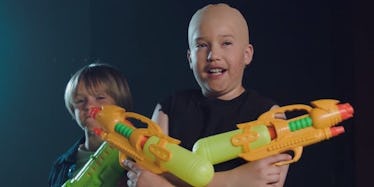 These Adorable Little Kids Absolutely Nail Their 'Furious 7' Parody (Video)
"Furious 7" is the biggest movie in the world right now, so naturally, it is ripe for parody.
This parody featuring kids, Legos and toy cars is up to the task of properly lampooning the film.
In the video, a kid in a bald cap plays Vin Diesel's role. There are also child stand-ins for Paul Walker and Jason Statham. Every kid involved really hits it out of the park.
This is one of the better parodies I've seen in a long time. Hell, it even has Nerf and Bubble Guns in it, so make sure to check it out up top.
Citations: Watch This Hilariously Perfect Furious Seven Parody Starring Little Kids (Buzzfeed)