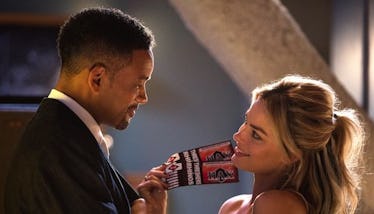 How 'Focus' Might Be What Will Smith Needs For Another Streak Of Success
This past weekend, Will Smith made his long-awaited return to theaters with the romantic caper, "Focus."
The film's opening financial returns are minuscule compared to past Smith movies, but enough to put him back on top of the box office.
Once the undisputed biggest movie star in the world, Smith's box office power and reputation have taken some hits. He has scarcely worked over the past few years, and when he did, the results were either flops or unwanted retreads.
It's been 25 years since Smith decided to shift from an up-and-coming rapper to actor.
His acting career began with the hit sitcom, "The Fresh Prince of Bel-Air," which was a ratings success, but more importantly, a great showcase for Smith.
While starring on "Fresh Prince," Smith dipped his toes into movies with small supporting roles before getting his first shot in a blockbuster with "Bad Boys."
Martin Lawrence came into the movie as the bigger name, but by the time it was over, Smith was the clear movie star.
After the success of "Bad Boys," Smith set out to keep his star rising, so he studied what characteristics the most successful movies at the box office shared.
The formula worked for him as he went on an unprecedented run with eight consecutive films grossing more than $100 million in the US.
During this stretch, Smith had his share of missteps, including poorly received films, like "The Legend of Bagger Vance" and the commercial flop of "Wild Wild West."
The lows were widely overlooked, though, considering the overwhelming number of highs Smith was having.
But, after more than a decade, which included two Oscar nominations and billions at the box office, the tides turned.
The formula Smith used to fuel his success suddenly became a part of his demise.
Instead of going out of the box and taking challenging or complicated roles, Smith stuck to what previously worked for him.
The problem soon became that just having Smith in a movie wasn't enough to make it a success, especially considering the films he was selecting.
His stretch of movies after the box office success included the confusing "7 Pounds," the unneeded "Men in Black 3" and worst of all, the Jaden-Smith-star vehicle "After Earth."
Throw in a cameo as Lucifer in the hilarious non-comedy, "Winter's Tale," and that was all Smith had to show for a seven-year-plus period.
The biggest disappointment of this unfortunate run in Smith's career wasn't the roles he choose, but rather, the one on which he passed.
Smith turned down the lead role in Quentin Tarantino's "Django Unchained," a movie that went on to be a commercial and critical success.
The role would've been a huge comeback for Smith and given him a shot at a character like none he ever had before. He turned it down solely because his character didn't get to kill the bad guy.
Smith's role in "Focus" is by no means as risky or interesting as that of "Django," but it does give America what we've missed: Will Smith being Will Smith. In the movie, Smith gets to be charming and funny, which he wasn't in any of his roles throughout the past seven years.
While "Focus" wasn't a huge hit, it most importantly gave Smith's career a much-needed pulse. Thankfully, Smith will ride this momentum by making more movies sooner rather than later.
Smith's "Concussion" is set to release on Christmas, and will take on the controversial subject of concussions in football. The biggest news for the actor, though, is his presence in the upcoming DC Comic film, "Suicide Squad."
In "Suicide Squad," Smith is tackling a role with two elements in which we've never seen him: appearing in an established superhero series and being a part of an ensemble. Smith likes to star in his movies, but finally, he has become more about projects as a whole.
He may no longer be the biggest movie star in the world, but Will Smith is at least back from movie purgatory.