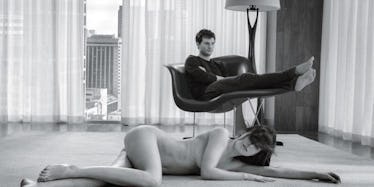 Jamie Dornan And Dakota Johnson Posed For Sexy 'Fifty Shades' Photos
Twitter
"Fifty Shades of Grey" comes out on Friday and that means this whole prolonged press tour will soon be coming to an end.
While it's still raging on, we've got some new, racy photos of the film's stars for you.
Jamie Dornan and Dakota Johnson were photographed for W magazine, and the snaps are pretty sexy.
It's been said, over and again, these two have almost no chemistry and they didn't get along on set.
But, based on these photos, it seems like they work together just fine.
Check out the sensual pics below.
Jamie & Dakota's Photoshoot for W Magazine (4) #FiftyShades pic.twitter.com/SUfb9Rkpqf — Fifty Shades Indo (@FiftyShadesID) February 11, 2015
Now out! #FiftyShades pic.twitter.com/efFdpNY3Eu — FiftyShadesFan.Org (@FiftyShadesEN) February 11, 2015
Jamie & Dakota's Photoshoot for W Magazine (1) #FiftyShades pic.twitter.com/fxrbIEDTNk — Fifty Shades Indo (@FiftyShadesID) February 11, 2015
Citations: Dakota Johnson lies nude before Fifty Shades of Grey co star Jamie Dornan in W magazine shoot (NY Daily News)