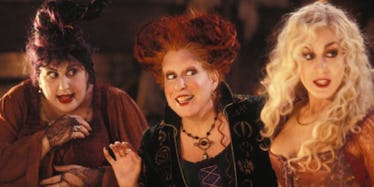 Disney Channel Is Remaking 'Hocus Pocus,' But Fans Aren't Totally Happy
Disney/YouTube
SOUND THE ALARMS, '90s kids, because it looks like some virgin just lit the damn black flame candle. That's right, my little ghouls and goblins, Disney Channel announced it is working on a remake of the '90s cult classic Hocus Pocus and I think I speak for all of us when I say MY BODY IS READY for Winifred, Sarah, and Mary to come back from the dead. As exciting as this news is, though, not all fans of the original movie are totally thrilled about the return. Indeed, it looks like the cast of the Hocus Pocus remake won't feature our idols favorite sisterly trio made up of Bette Midler, Sarah Jessica Parker, and Kathy Najimy in their original roles. Instead, a new group of misfit witches will put a spell on us this time around.
Obviously, it is somewhat disappointing THE Sanderson sisters won't be back to terrorize Salem, especially considering how Sarah Jessica Parker said in a 2016 interview she would be interested in revisiting her role as Sarah Sanderson all these years later. The actress told People, "I would love [to do a sequel]. I think we've all been fairly vocal about being very keen, but that hasn't created any groundswell of movement."
As upsetting as it is, though, it does make sense that there would be a whole new cast; the upcoming Hocus Pocus is slated to be a remake of the original, rather than a sequel to it, so the studio is likely looking to put an entirely fresh spin on the project.
After many years of rumors and speculation surrounding a potential remake or sequel (Bette Midler once joked on Twitter that Disney was having a hard time finding a virgin to cast), Deadline finally broke the official plans for the upcoming TV movie, which is still in its early stages of development.
As for the film's undying popularity and its status as a Halloween standby on channels like Disney, ABC, and Freeform, one of the original writers, Mick Garris recently told Forbes,
[I]t's kind of remarkable and fantastic to have something brought to the screen like that and to have it embraced generation after generation. Everybody I meet, it's either their daughters or their own favorite movie and it's incredibly exciting.
He went on to address the liveliness of Hocus Pocus 2 rumors over the past 10 years, disappointing everyone in the process by revealing that he is not involved in writing the upcoming remake. The writer told Forbes,
There have been rumors of a Hocus Pocus sequel for the last 10 years that will not die. I have heard they are developing the script; I haven't been involved in it, but I think there will be a sequel, it might be for Disney Channel or Freeform or ABC. I think it will be for television, but I hear that it is moving ahead.
Sadly, the remake is still in preproduction, so it won't hit TV screens until at least Halloween of 2018 — just in time for the film's 25th anniversary. That's OK, though, because — remake or no remake — we can always count on the original Hocus Pocus to keep us entertained every October.
Whether or not there will ever be a sequel featuring our fave witches is up in the air, but, according to a live Facebook Q&A with Bette Midler in 2015, the answer is an "unequivocal no." Then again, Billy Butcherson came back from the dead, literally climbed out of his grave, and was decapitated a few times, so I guess anything is possible, right?
One way or the other, one thing is for sure: Whoever stars in the remake of Hocus Pocus has some big, weird witch shoes to fill. In the meantime, while you wait for the witches to come back to life, here's the Sanderson Sisters singing their smash hit single, "I Put A Spell On You":
Check out the entire Gen Why series and other videos on Facebook and the Bustle app across Apple TV, Roku, and Amazon Fire TV.