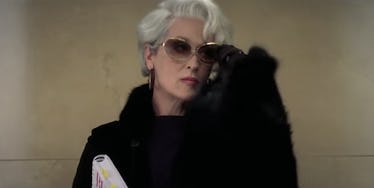 'The Devil Wears Prada' Is Becoming A Broadway Musical, Written By Elton John
YouTube/Fox 2000 Pictures
Fashionistas, rejoice!
Our favorite faux Anna Wintour, Miranda Priestly — who has made her way from page to screen — is now set to hit the Broadway stage.
Producer Kevin McCollum has been working on this project for two years, but it now looks as though the wheels are finally in motion, as Elton John and playwright Paul Rudnick have signed on for the musical adaptation of "The Devil Wears Prada."
Who's ready to hear Miranda belt one out?
The play is based on Lauren Weisberger's 2003 bestseller and the 2006 film starring Meryl Streep and Anne Hathaway.
The coming-of-age tale follows a theme we know well: trying to find our way through our career and love life.
College grad Andy Sachs wants nothing more than to be a reporter, but when she lands a job at Runway magazine, things don't go according to plan.
Her size-six pants are frowned upon, she can't handle late-night calls with bizarre requests from her boss and her colleague's ray-of-sunshine persona is just a little too much to take.
We've all been there, girlfriend.
I myself have spent time at a fashion magazine. While the content the publication produced was amazing, and I absolutely loved it, I was without question the Andy of the interns.
I came in every day with curls looking like Robert Plant's while everyone else had a 'do that looked straight out of a Pantene ad. I never managed to master walking in heels and I wanted nothing more than to hit the dessert line of the cafeteria while my superiors all were having neat-looking lunches.
I, like Andy, questioned what I wanted and what direction I should take my career. I didn't know what to wear. I didn't have a hunky-hunky boyfriend to deal with at the time, but if I did, he would've been scared shitless of what the humidity did to my hair that summer.
In a sense, Andy was my role model, someone who was trying to figure it out and have the life I wanted, too. I'll always hold a special place in my heart for one of my favorite protagonists.
I've loved Andy in book form and in the shape of Anne Hathaway, and nothing will get me to Broadway faster than the adaptation of one of my favorite books and movies.
There is currently no timeline for the project, but get your shoes ready — the devil is coming.
Citations: 'The Devil Wears Prada' Is Aiming for Broadway, as a Musical (New York Times)