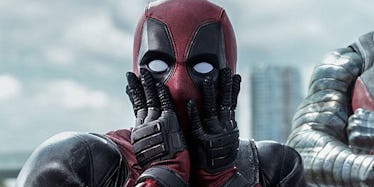 'Deadpool' Is Coming To TV For An Adult Animated Series And Fans Are Thrilled
20th Century Fox
Alright comic nerds, start your engines because I have news.
Today, FXX and Marvel Television delivered a glorious gift to us and we are READY.  As we speak, there is an untitled, adult animated series based on the character Deadpool in the freaking works.
HERE'S THE BIG TWIST, Stephen Glover and his brother Donald Glover, of insane movie, television and music fame plus the genius behind the award-winning series "Atlanta," are both executives producers, showrunners and writers for the new series.
KABLAMO, WORLD!!!(Assuming that's a superhero term, yes?)
Co-president of Original  Programming at FX Networks and FX Productions said in a press release,
Donald Glover is an incredibly gifted and versatile artist who'll bring the untitled Marvel's 'Deadpool' series to life with the same intense, singular vision as his breakout hit 'Atlanta.' With the success of 'Legion,' we're looking forward to again partnering with Marvel Television to create a series that is bold, striking and entirely original.
Since Deadpool's debut in 1991, he has grown to be one of Marvel's most popular and beloved characters, starring in multiple best-seller Marvel Comics. Of course, he was taken to the big screen in 2016 with Ryan Reynold's at the helm, playing Deadpool himself.
Now, it's Glover's turn to take the red suit for a spin.
Jeph Leob, Head of Marvel Production, added,
How much more fun could this be?  Deadpool, Donald and FX – the perfect fit for the Merc with the Mouth!  We're thrilled that our relationship with FX that started with 'Legion' continues with what is sure to be a groundbreaking show in adult animation.
SING IT, JEPH!
The untitled adult action series will be produced in association with FX Productions and ABC Signature Studios for FXX with Marvel Television, and viewers can expect ten episodes in season one. It is scheduled to air in 2018.
Take THAT bad guys! Er... something.