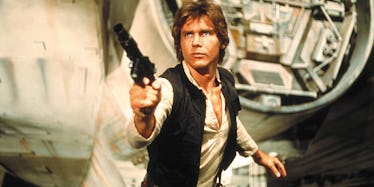 We're Finally Getting Some Clues About The New Han Solo Movie & It's About Time
Disney
It's been just over three months since the news Lord and Miller had been unceremoniously dumped from the OMG Why Is This Still Untitled Han Solo Stand Alone Joint. We're coming up on three months since Ron Howard took over the production, and has, by some calculations, filmed enough to fill at least half the movie, if not more. But now, as filming under his regime begins to wind down, Howard has now started to reveal new Star Wars' Han Solo movie details on Twitter and Instagram.
If you're slightly shocked, don't be. Howard has brought a new era of openness to Star Wars, which, prior to this, had been as locked down as Game of Thrones, for fear of "spoiler culture." But while we still know little to nothing about the upcoming Episode VIII installment, Star Wars: The Last Jedi, Howard has been on the Twitter streets giving glimpses of set life, from piles of electrical cable to empty directors' chairs.
Yes, it was funny at first to be teased with "live shots from the set" that told us little and gave away less, other than a technician's inability to figure-eight his coils properly. But from those initial peeks, he's slowly been working his way up, allowing Lucasfilm to get more and more comfortable with allowing 21st century social media to do the advertising work for them.
And now, he's posting full blown atmospheric shots from on the set. No telling if those are actually actors, or technicians and extras, standing around having a 12-hour coffee break on a hurry up and wait set. One fan even suggested that the person in the foreground is Boba Fett, but we doubt it. One of these days, he's supposed to get his own stand alone anthology, maybe even one that has a title.
But it certainly gives the feel for what this movie is going for. And from the looks of it, it's not the Han Solo: Ace Ventura In Space that Lucasfilm told us Lord and Miller were threatening to turn in.
But that's not the only shot of "desperate and dangerous times." It comes in other angles, with other shades of haze.
What "desperate and dangerous times" are these? (Other than ones that find our president tweeting nonstop about football when Congress is trying to take health care away from your grandmother, and Puerto Rico is a Katrina-like disaster.)
Where is this wasteland junkyard where the fog machines manage to look rose and gold from different angles? Fans speculating on both Twitter and Instagram have settled on the same hope: that these are the space mines of Kessel, and that this is preparation for the scene where Han Solo and his mates make that famous run in less than 12 parsecs. Many fans assume that this scene will be the heart of the movie. Of course, what *I* want to know is, is Lando going to lose the ship to Han before or after the Kessel run?
Part of the reason for that, is that Howard recently posted a set pic that fans are positive is the inside of those space mines.
Whatever the scene is that they filmed this past weekend, it's the last one that female lead Emilia Clarke will be a part of. She said goodbye to the Star Wars sets and a Galaxy Far Far Away to head back to Westeros for one final dragon ride next month.
Sounds like Ron's a little jealous. I'm sure if he asked nicely, Benioff and Weiss would totally let him come visit. Just leave the phone camera at home. They're not ready for that over in Westeros. Not even pictures of the electrical cables.