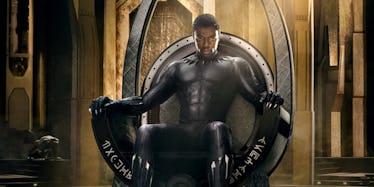 Marvel's 'Black Panther' Poster Is Here And Fans Are Pointing Out A Major Detail
Marvel
It's been a good month for comic fans — last week Wonder Woman shattered box office glass ceilings, and on Friday, Marvel revealed the poster for its upcoming Black Panther.
And fans will definitely not be disappointed because this poster is freakin' awesome.
The film is set for a Feb. 2, 2018, release date. And, according to actress Lupita Nyong'o, fans can also expect the first teaser trailer to premiere during Game 4 of the NBA Finals tonight, which airs at 9 pm on ABC.
But this poster is particularly awesome, and not just because Black Panther star Chadwick Boseman is looking extremely attractive in his skin-tight leather suit. (Though that certainly doesn't hurt.)
Nah, what puts this poster above and beyond is the fact — as some fans on Twitter have pointed out — it might be a tribute to the real Black Panther Party, the revolutionary political organization.
The comparison photo is a picture of famed African-American political activist Huey P. Newton that was used on a famous poster for the Black Panther Party circa 1967.
Now, the photos aren't exactly the same, but it does seem like T'Challa is emulating Newton's position and expression. And certainly the thrones both men are sitting on share similarities.
I honestly wouldn't be at all surprised if director Ryan Coogler (Fruitvale Station, Creed) did that on purpose.
Of course, hardcore Black Panther fans will know T'Challa's superhero name actually predates the Black Panther Party, as he first appeared in comics in July 1966, a few months before the party's foundation in October.
But over the years, the character of Black Panther has become an important black icon for so many — so it wouldn't be odd at all for Coogler to connect those two important figures in history.
Either way, I think one assumption is safe to make: The Black Panther film is going to be dope.