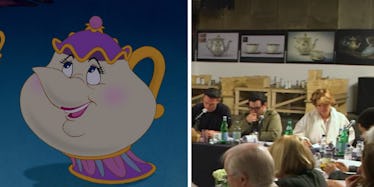 The First Look At Mrs. Potts In 'Beauty And The Beast' Remake Is Damn Creepy
Disney/YouTube
Disney just released a "Beauty and the Beast" live-action featurette and hawk-eyed fans noticed a little Easter egg in the background of the table read.
How they were able to rip their eyes off the stars of the movie, Emma Watson and Dan Stevens, we'll never know.
But, sure enough, in the second long shot you can see the character design for Mrs. Potts and her son Chip.
The characters were originally voiced by Angela Lansbury and Bradley Pierce, and will be portrayed by Emma Thompson and Nathan Mack in the live-action version.
We discussed the trailer before, but did you catch that concept art?
It's kind of... creepy. The human face on Mrs. Potts is unnerving, and just how did Chip chip his head? ...Will he have a chipped head when he turns back into a human?
Chip's handle is still his nose, just as it was in the animated movie, but it looks like Mrs. Potts' face will be on the side of the teapot.
We guess it's fine for a cartoon teapot to pour tea out of her nose, but when it has a humanoid face it is a bit much.
Ah, human faces on tea pots... Tale as old as time.
The full featurette will be released with the Digital HD and Blu-ray 25th Anniversary Editions of the animated film later this month.