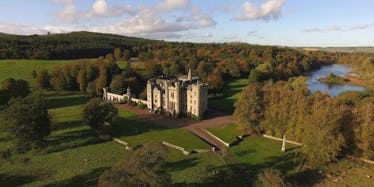 There's A 'Beauty And The Beast' Castle Where You Can Live Just Like Belle
HomeAway
We're just a little over a month away from watching Emma Watson and company light up the screen in the live-action remake of everyone's favorite disney classic "Beauty and the Beast."
However, if you really can't wait until March 17 to get your fantasy game on, well, I have some amazing news for you.
According to reports, it appears vacation rental company HomeAway has partnered with Disney to offer one lucky fan the opportunity to stay at a castle in Europe that looks exactly like the one from "Beauty and the Beast"!
But wait, it gets better!
See, if you win this epic contest, you won't be staying alone at this real life "Beauty and the Beast" castle... you'll be able to bring 20 of your closest friends with you.
I KNOW!
According to reports, this castle of your dreams was built in the 14th century and is located in Duns, Scotland.
The fantasy crib resides on 1,200 acres and offers croquet, archery and -- wait for it --  falconry!
If you're lucky enough to win the once-in-a-lifetime contest, you'll reportedly have full run of this "Beauty and the Beast" castle for five days.
Apparently, the estate comes with a live-in staff, a billiards room, a drawing room and one hell of a dining room.
Speaking on her excitement over playing Belle, Emma Watson said,
There's this kind of outsider quality that Belle had, and the fact she had this really empowering defiance of what was expected of her. In a strange way, she challenges the status quo of the place she lives in, and I found that really inspiring. She manages to keep her integrity and have a completely independent point of view. She's not easily swayed by other people's perspective — not swayed by fear-mongering or scapegoating.
The contest closes on March 31, so make sure to enter no less than a million times here.
Citations: Stay Like Belle (Minus the Beast) in This Castle That's a Complete Fairy Tale Dream (People)