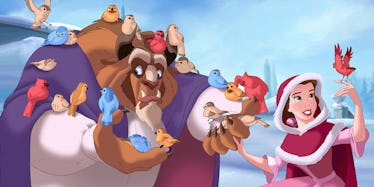 The Cast Of 'Beauty And The Beast' Graced Us With Their First Selfie (Photo)
Disney
Are you jerks excited for Disney's live-action "Beauty and the Beast" movie?!
Of course, you are. To further fuel the flames of your desire to see the film, the cast members took an epic selfie together. And when I say epic, you know I mean epic.
Emma Watson, Dan Stevens, Josh Gad, Luke Evans and motherf*cking Kevin Kline took the photo together while they were in the middle of rehearsals for the flick.
The jury is still out on how this film will turn out, but based on the talent involved, I think it's going to be pretty great.
Hell, Sir Ian McKellen was just cast as Cogsworth, the Beast's talking grandfather clock.
So if this picture doesn't excite you, that news definitely should.
Citations: Emma Watson Luke Evans Kevin Kline Dan Stevens Josh Gad Pose For First Beauty and the Beast Live Action Selfie (Us Magazine)