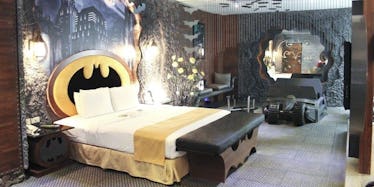 This Hotel Room Is The Perfect Vacation For The Ultimate Batman Fan (Photos)
I know where I'm going on my next vacation: Taiwan. That's because the Eden Motel in Kaohsiung has a room entirely dedicated to Batman.
The room is littered with Batman's iconic symbol, has a chair that looks like Batman's Tumbler and there's a Gotham City landscape painted on a wall.
The best part is you don't have to have Bruce Wayne's fortune to stay in the room.
It only costs around $200 a night. A utility belt is not included, but there is a jacuzzi.
Check out the photos of the Bat-room below.
The Tumbler Chair:
All bat everything:
Your very own bat signal:
The Bat Bed:
Hey, look, a jacuzzi:
I want to go to there:
A room with a view:
Citations: Taiwan Motel Has Awesome Batman Room (The Roosevelts)