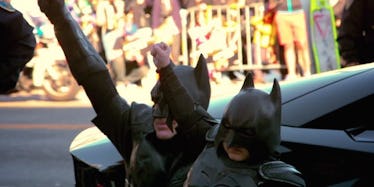 New Trailer For 'Batkid Begins' Shows He's The Superhero Gotham Needed (Video)
Almost two years ago, Batkid fever swept across the Internet when a little boy suffering from leukemia got the chance to fulfill his wish of being Batman for a day.
San Francisco was turned into Gotham City, and 5-year-old Miles Scott became the caped crusader.
Now, a documentary is being released chronicling Batkid's rise.
The film is called "Batkid Begins," and it will be in select theaters on June 26.
It shows how a city came together to make a sick kid feel like a real-life hero, and it promises to give you all of the feels.
Watch the trailer above.