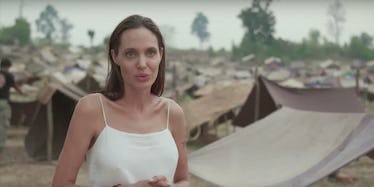 Angelina Jolie's New Movie About Cambodia Had The Weirdest Auditions
YouTube
In a new Vanity Fair profile today, Angelina Jolie fans got the inside scoop on her infamous divorce from Brad Pit and her new life as a single mom. But scroll past the family drama and fans will find something even darker — the seemingly disturbing audition process for the children cast in Angelina Jolie's new film about Cambodian genocide.
The film, directed by Jolie and titled First They Killed My Father, is a biographical thriller based on Loung Ung's memoir of the same name. Ung, who co-wrote the film with Jolie, is a survivor of the mass killings in Cambodia known as the Killing Fields, which occurred as part of the state-wide genocide the '70s under Pol Pot's Khmer Rouge regime. The film is a Netflix original, set to premiere sometime in 2017.
Jolie has previously stated that a big inspiration for directing the film is her adopted son Maddox Jolie-Pitt, who is Cambodian American. Jolie reached out to acclaimed Cambodian filmmaker Rithy Panh to help her with the project, and the two filmed on location in Cambodia. In this Vanity Fair piece, details on how Jolie and Panh cast their child actors came to light — and the filmmakers are coming under fire for their controversial methods.
According to the article, in order to find a child actor to play the young lead, Loung Ung, the casting directors played a "game" with Cambodian children. The casting directors would place money in front of each child and asked them to think of a reason why they needed that money, and then asked them to steal that money. Then the directors pretended to catch the child in the act, and the child was supposed to come up with a lie.
Jolie described how they found the film's lead child actress:
Srey Moch [the girl ultimately chosen for the part] was the only child that stared at the money for a very, very long time. When she was forced to give it back, she became overwhelmed with emotion. All these different things came flooding back. When she was asked later what the money was for, she said her grandfather had died, and they didn't have enough money for a nice funeral.
Vanity Fair Evgenia Peretz notes that Jolie began to tear up while telling this casting story.
This casting method has faced criticism from many, with Twitter users decreeing the game as cruel.
The method does seem highly unorthodox — for recent films in similar situations, casting young children actors from third world countries, such as Sunny Pawar in the 2016 film Lion, casting directors just had the children auditioning do improv around some of their key scenes.
They Killed My Father does not yet have a release date but is expecting to stream this year on Netflix.