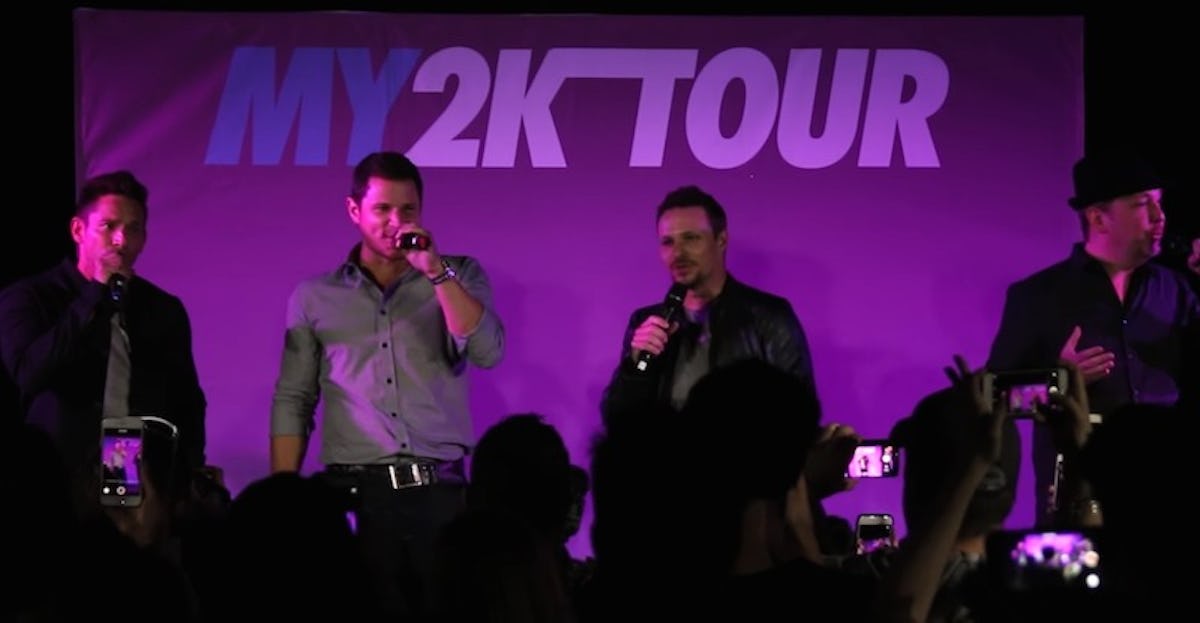 10 Reasons You Shouldn't Feel Ashamed To Blow Your Paycheck On The MY2K Tour
Just when you thought the posters on your teenage bedroom walls had hung up their platforms and muscle tees for good, the pop stars aligned and brought us the MY2K Tour. This summer, 98 Degrees will be hitting memory lane (and other major highways) with O-Town, Dream and Ryan Cabrera.
I called out of work the day after the news broke because of heart palpitations. I also really wanted to brush up on lyrics and see if I could find any butterfly hair clips on eBay. Those things take time. This nostalgia-dusted lineup claimed the hearts of many years ago, and they still have them. Now, they just beat to a different ballad.
Before you hit puberty, you probably saw 98 Degrees in concert, sang along to every song on It Was All A Dream through your neon braces, cried when you missed O-Town in your city and were way too invested in Ryan Cabrera's relationship with Ashlee Simpson. Not much has changed.
Nowadays, you spend your Sunday afternoons indulging in marathons of "The Newlyweds," stalk the Dream ladies on Instagram for outfit inspiration, have Twitter notifications enabled for each O-Town hunk and contemplate getting a Ryan Cabrera tattoo daily. The MY2K Tour is your chance to show how far you've come since trading in your training bra.
Here are 10 reasons seeing your favorite artists now will be way better than the time you did before you had boobs:
1. You're fully capable of appreciating a good DILF.
Most of the participating "man band" members have children, and you might even be someone's mother at this point. So, when Nick Lachey cradles the microphone like a newborn baby, your ovaries will start to smoke and possibly even explode.
2. Ryan Cabrera's hair is still completely intact.
This is unlike most of your recent dates plucked from Tinder and Bumble. You'll fantasize about being tangled up in it for the duration of his set. Seriously, what products does he use?
3. Your heart is equal parts mature and jaded.
The combination of real-life experience and perpetual dating disasters will only aid in you singing every note in Dream's girl power anthems. You do so in a way your pre-pubescent self could only dream of. Plus, your voice hardly gets mistaken for a 4-year-old boy anymore, so you can totally hit all the sultry notes.
4. Your '90s girl self will finally get closure.
You'll finally find the comfort and closure you've been seeking since that messy 7th grade breakup when you hear "All Or Nothing." I know it was tough, but have you stalked his Facebook lately? Tragic.
5. Your fashion sense has drastically improved.
It is so much easier to get a heartthrob's attention in a V-neck halter than a t-shirt covered in puffy paint and glitter. Trust me, you'll look like less of a hot mess.
6. You'll decide which heartthrob is your favorite.
At last, you'll realize Ashley Parker Angel really was not the hottest member in O-Town.
7. You'll feel better about your age.
Ashley, Holly, Melissa and Diana are living proof that it truly is possible to age gracefully.
8. You finally don't need a chaperone.
You don't have to figure out whose parents are driving their minivan this time. Hell, splurge for a limo. You're a working girl now.
9. You appreciate the steaminess a lot more.
Adding a Chippendale's experience to a boy band is basically like eating a mozzarella-stick-sprinkled pizza with ice cream while getting pedicure. Thank you, Jeff Timmons.
10. You now have a full-blown understanding of what a "liquid dream" is.
And you are so ready to be the star of all of them.
Now that you fully understand why you can't miss this show, get rid of your granny panties and upgrade to something lacy. You'll need something sophisticated to throw on stage. Get your tickets (with your own money), and blame all your hot flashes on the MY2K Tour.