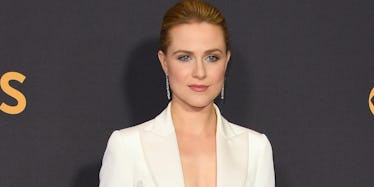 Fans Are Pissed Over 'Westworld' Not Winning Any Emmy Awards
Mark Ralston/Getty Images
Over the past year it seems like television has had somewhat of a renaissance, which is why it was no surprise to anyone when this year's Emmy Awards was filled with a slew of rookie nominations and wins; indeed, many of the shows that were nominated this year have only one season's worth of episodes to show for their work, which means some of the night's biggest winners — shows like Big Little Lies and The Handmaid's Tale, both of which took home eight golden statuettes — are only just getting started this awards season. That being said, fans are wondering how many Emmys Westworld won.
Another newcomer to the Emmys scene, HBO's Westworld racked up an astounding 22 nominations this year, tying Saturday Night Live for the most nominations of the night. In a strange turn of events, though, the acclaimed drama only took home three awards, none of which were in any major categories. Given that the show has quickly become a fan favorite on HBO, I doubt this is the last time we'll see Westworld's name at the Emmys, but it is surprising, nonetheless, to see a show with such high expectations lose so miserably. Of course, fans of the show are displeased with what they are identifying as "snubs" and have taken to the trusty old internet to express their disbelief, anger, outrage, and disgust.
Westworld, a science fiction thriller set in alternating time periods of Wild West-themed amusement park, pulled in impressive nominations in major categories like Outstanding Lead Actor in a Drama Series, Outstanding Lead Actress in a Drama Series, Outstanding Directing for a Drama Series, Outstanding Writing for a Drama Series, and Outstanding Drama Series. Ultimately, though the show won in none of these categories, it did end up taking home three Creative Arts Emmys for Outstanding Sound Mixing for a Comedy or Drama Series (One Hour), Outstanding Makeup for a Single-Camera Series (Non-Prosthetic), and Outstanding Hairstyling for a Single-Camera Series, so the series didn't lose completely this year.
Though I myself am shocked that Westworld barely even won a participation ribbon this year, looking at the talent the show was up against makes it a bit easier to understand. In a year filled with several gripping new dramas brought to high levels by unparalleled acting, winning could not have been an easy feat.
Indeed, the show itself was up against major heavy hitters like House of Cards, Stranger Things, This Is Us, and The Handmaid's Tale (which took home the gold); meanwhile, Anthony Hopkins was up against This Is Us's Sterling K. Brown for Outstanding Lead Actor in a Drama Series and Evan Rachel Wood was up against The Handmaid's Tale's Elizabeth Moss in the Outstanding Lead Actress category. In cases like these, there are no "snubs," just "better luck next years."
That being said, the hype surrounding Season 2 of Westworld is already at an all time high. The show is set to return early in 2018, and the first trailer for the drama's second season — which was released during San Diego Comic-Con in July — already has fans salivating over it, which is probably much more rewarding than some stupid old gold Emmy.
Meanwhile, the show's co-creator, Lisa Joy, is set to direct at least one episode of the series this season. During an interview with TVLine on the Emmys red carpet, Lisa's husband and co-creator of Westworld, Jonathan Nolan, looked at her and said, "You've made it far more violent and disturbing than we ever intended. It was quite a placid episode, and Lisa has kind of turned it into a bloodbath."
Clearly Season 2 of Westworld is going to deliver all of the drama, thrills, and twists of Season 1... and then some, and I can't wait.
Check out the entire Gen Why series and other videos on Facebook and the Bustle app across Apple TV, Roku, and Amazon Fire TV.