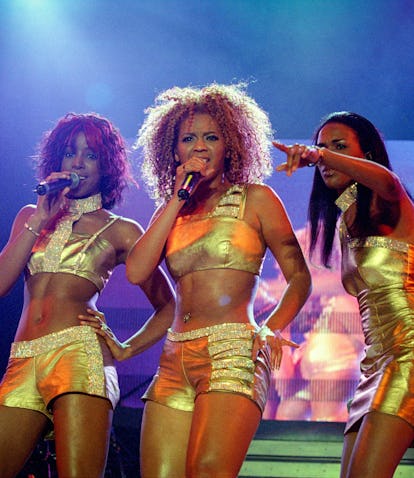 8 Famous Made-Up Words From Songs You Love
Are you telling me bootylicious isn't a real word?
Paul Bergen/Redferns/Getty Images
Sometimes I wonder what Shakespeare would think about 21st-century language. Like, would he think it's "dope" that so many of the slang words we use actually have two meanings? Would he be super confused about the fact that being "down" for something actually means the same exact thing as being "up" for it? And, most importantly, what would his thoughts be on all the famous made-up words from hit songs that we know and love? These are the questions that haunt me at night.
IMO, history's greatest late wordsmiths would probably be v into the colloquialisms and phrases that define today's lexicon — particularly when it comes to Top 40 music. Over the past few decades, some of *my* favorite words have certainly stemmed from song lyrics, and I've always wondered how TF songwriters come up with these creative expressions. From Destiny's Child's "Bootylicious" and Cardi B's "WAP" to Shaggy's "Boombastic" and the Spice Girl's "zigazig ah," I have so. many. questions. And you will, too, after diving into this list of crafty words we all recognize and use (but would never find in an old-timey dictionary).