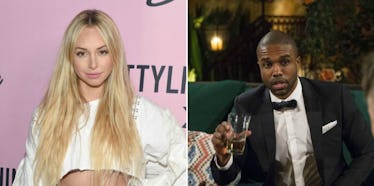 Here's Everything We Know About The 'Bachelor In Paradise' Suspension
Matt Winkelmeyer/Getty ImagesABC
If you've been following the Bachelor in Paradise over the past several months, then you know there has been significant controversy surrounding the show's filming and production, which began earlier this summer and was abruptly suspended for a short period of time. The controversy revolves namely around two well-known Paradise contestants, Corinne Olympios and DeMario Jackson, and an alleged incident of sexual assault that occurred between the two while on set. Though filming eventually resumed on the upcoming fourth season, there was a period of time where the season's status was uncertain. While this season is still set to air, the Bachelor in Paradise suspension certainly called into question the future of the show and the integrity of its production.
To date, what has been revealed to the public about the incident has been troubling. What we know for certain is that on June 4, 2017, during filming for Bachelor in Paradise, an incident of alleged sexual misconduct occurred between two contestants. One of the show's producers, feeling uncomfortable by the events, threatened to sue the show for misconduct, causing production to be shut down. The following Sunday, Warner Bros. released a statement addressing the circumstances where they said,
We have suspended production and we are conducting a thorough investigation of these allegations. Once the investigation is complete, we will take appropriate responsive action.
Since then, statements have been released by both parties involved in the situation. In an initial statement, Corinne Olympios claimed she was taken advantage of at a point in time when she was not capable of consenting to sexual activity. Corinne told People magazine in an interview regarding the allegations,
I am a victim and have spent the last week trying to make sense of what happened on June 4th. Although I have little memory of that night, something bad obviously took place, which I understand is why production on the show has now been suspended and a producer on the show has filed a complaint against the production. As a woman, this is my worst nightmare and it has now become my reality.
The former contestant from Season 21 of The Bachelor went on to say,
As I pursue the details and facts surrounding that night and the immediate days after, I have retained a group of professionals to ensure that what happened on June 4 comes to light and I can continue my life.
In response to Corinne's statement, DeMario released comments of his own where he claimed the allegations against him are false and said he felt attacked. He told E! News,
It's unfortunate that my character and family name has been assassinated this past week with false claims and malicious allegations. I will be taking swift and appropriate legal action until my name is cleared and, per the advice of legal counsel, will be seeking all available remedies entitled to me under the laws.
Despite all of the rumors that Bachelor in Paradise would be canceled indefinitely, the fourth season resumed filming with new and returning cast members after a June 20 statement from Warner Bros. revealed the allegations of sexual misconduct to be unsubstantiated. The production company told Fox News,
Our internal investigation, conducted with the assistance of an outside law firm, has now been completed. The tape does not support any charge of misconduct by a cast member. Nor does the tape show, contrary to many press reports, that the safety of any cast member was ever in jeopardy.
It has been confirmed, additionally, despite the scandal and shut down, the show will air footage of DeMario and Corinne from before the shutdown.
Moving forward, as a result of this incident, TMZ has reported the Bachelor franchise will be implementing new, stricter policies regarding drugs, alcohol use, and sex in order to protect its contestants from dangerous situations. In a year that's been filled with news of sexual assaults from Kesha to Taylor Swift to Bachelor in Paradise, it is imperative that a show as popular as this take the measures to protect its contestants from instances of sexual violence now and in the future.